消息
UAW President Shawn Fain rejects pay raise offer as strike drags on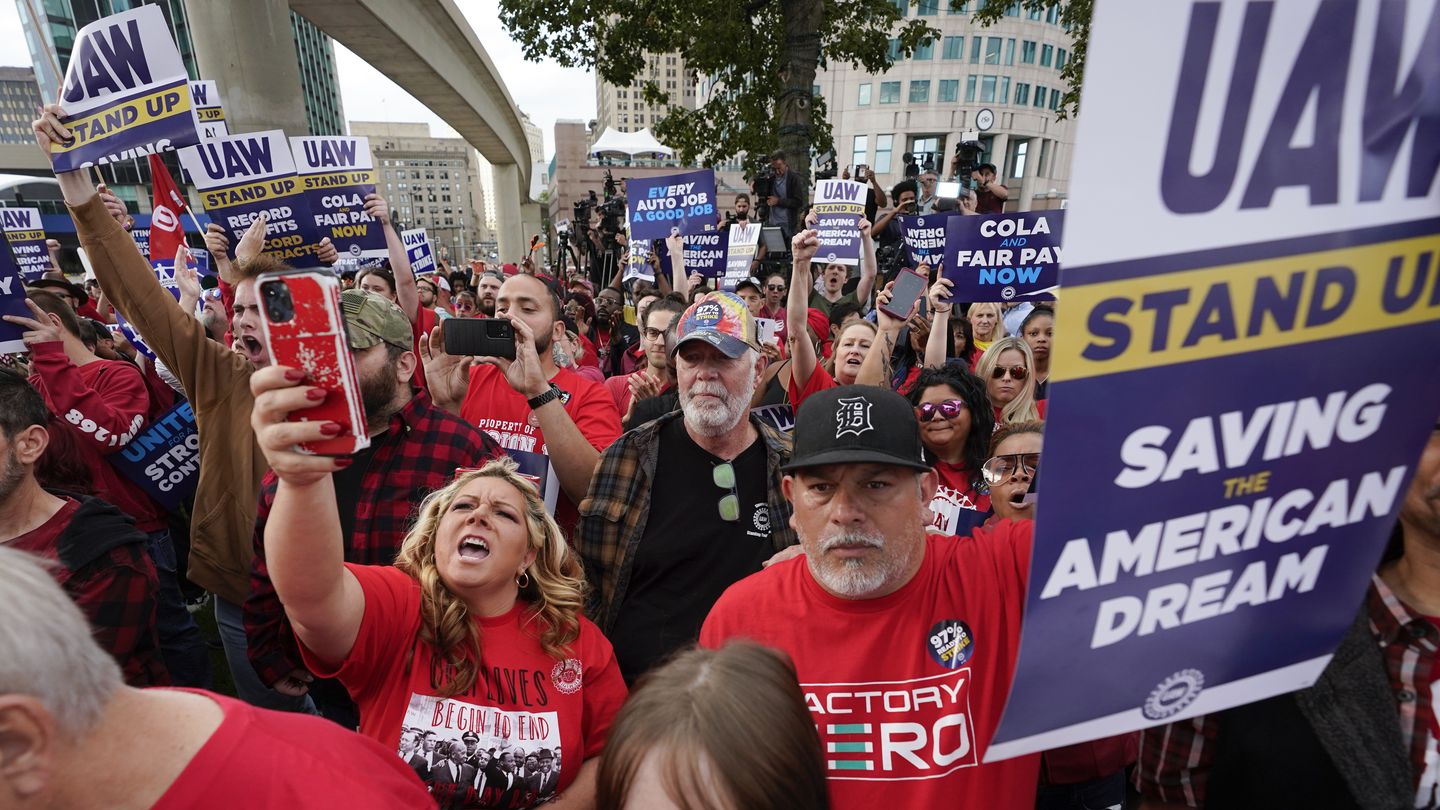 United Auto Workers President Shawn Fain said Sunday that a 21% raise for its union members was "definitely a no-go" amid demands for Detroit's Big Three automakers to pony up a 40% pay boost, better benefits and a shorter workweek.
Workers at General Motors, Ford and Stellantis — an Italian-American conglomerate that owns Chrysler, Dodge, Jeep and several European brands such as Fiat and Peugeot — were on their third day of striking Sunday as Mr. Fain shot down Stellantis' offer as inadequate.
"The reason we asked for 40% pay increases is because in the last four years alone, the CEO pay went up 40%. They're already millionaires," Mr. Fain said on CBS's "Face the Nation." 
---
---
"It's shameful that one of the leaders of the corporations is sitting in his second home in Acapulco while we're bargaining, rather than being at the bargaining table. We're asking for our fair share in this economy and the fruits of our labor," he said.
Mr. Fain has warned that the longer negotiations go on without an agreement, more plants and workers will join the strike. 
"Labor costs are about 5% of the cost of the vehicle. They could double our wages and not raise the price of the vehicles and still make billions in profits," he said. "It's a choice."
Autoworkers average from $18 to $32 per hour. Last year, GM Chair and CEO Mary Barra made $29 million, Ford CEO Jim Farley made $21 million, and Stellantis CEO Carlos Tavares made $25 million. 
President Biden, who frequently touts his pro-union stance, lent his support Friday to the UAW and suggested automakers need to share the wealth with their workers more.
"Over the past decade, auto companies have seen record profits, including over the past few years, because of the extraordinary skill and sacrifices of the UAW workers," Mr. Biden said at the White House. "Those record profits have not been shared fairly, in my view, with those workers."
The UAW has notably not endorsed Mr. Biden's reelection bid, despite his longtime support for unions and his status as the Democratic Party's standard-bearer. 
"Our endorsements are going to be earned. We've been very clear about that, no matter what politician," Mr. Fain said. "Who the president is now, who the former president was or the president before them isn't going to win this fight" against the automakers.
Mr. Fain has been critical of former President Donald Trump, who in an interview with NBC's "Meet the Press" that aired Sunday accused Mr. Fain and the union of failing its members by, for partisan reasons, aiding Democrats' plans to speed the transition to electric vehicles. 
"The auto workers will not have any jobs, because all of these cars are going to be made in China. The electric cars, automatically, are going to be made in China," Mr. Trump said. "The autoworkers are being sold down the river by their leadership."
One of the nation's largest business organizations, the conservative-leaning Chamber of Commerce, has blamed Mr. Biden for the strike and its fallout for urging unions to use their collective bargaining power. 
"The UAW strike and indeed 'the summer of strikes' is the natural result of the Biden administration's 'whole of government' approach to promoting unionization at all costs," Chamber of Commerce President and CEO Suzanne Clark said.
Mr. Fain acknowledged that the green energy transition is presenting the union with new challenges because EVs require roughly 40% less labor to produce than traditional gas-powered vehicles. 
"Our tax dollars are financing a massive portion of this transition to EV. We believe in a green economy. We have to have clean water, we have to have clean air," he said. "But this transition has to be a just transition and a just transition means, if our tax dollars are going to finance this transition, then labor can't be left behind."