消息
The cost of damage from the record floods in Greece's breadbasket is estimated to be in the billions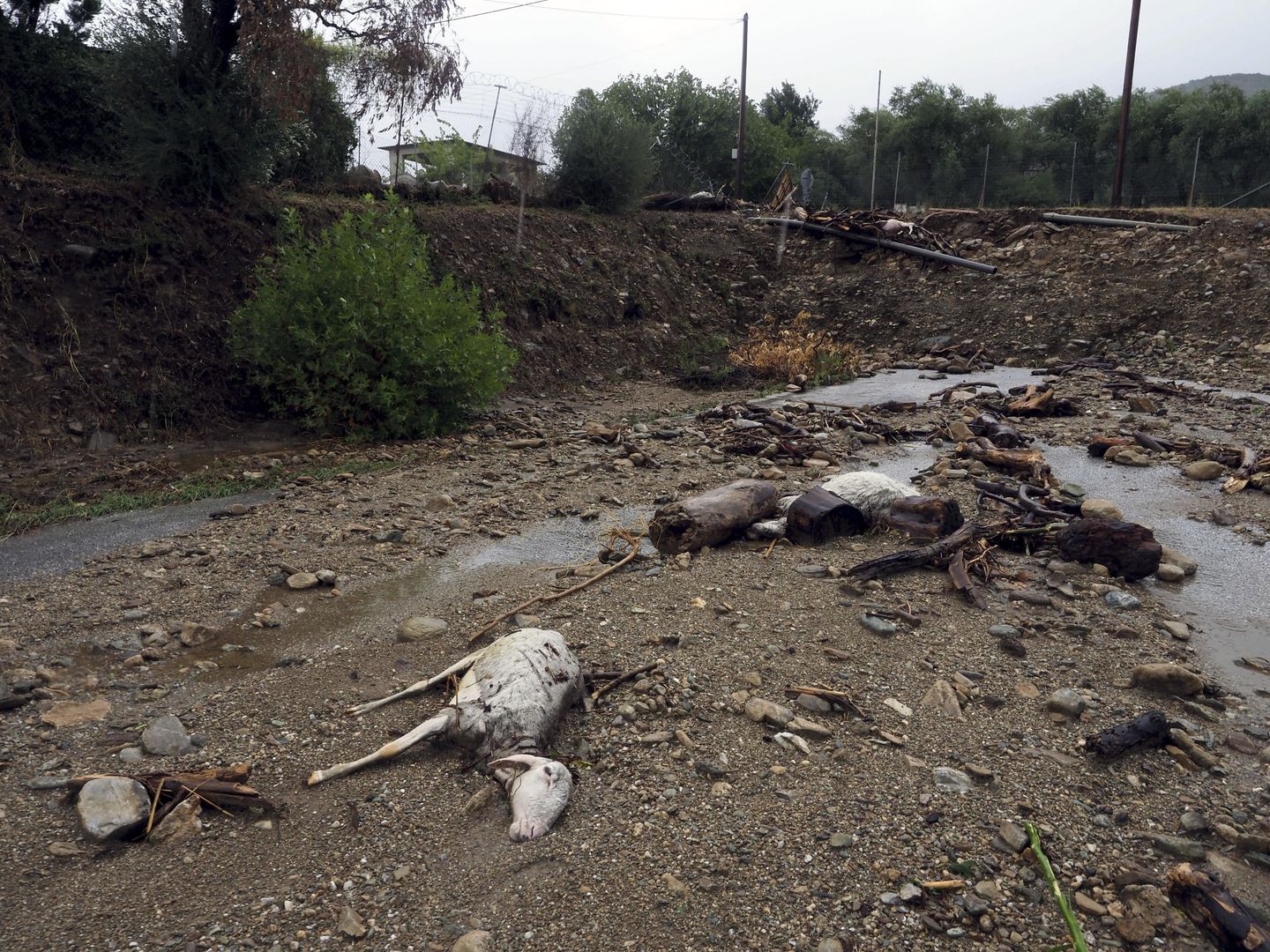 ZAGORA, Greece — The apples were almost ripe for harvesting when the worst storms in more than a century struck Greece's breadbasket in Thessaly.
Now, farmers on the forested slopes of Mount Pilion, which overlooks the plain of Thessaly, say they face millions of euros in damage from the flooding that began earlier this month. They will be lucky to salvage a third of their crop – and that will only happen if wrecked road access to their orchards is patched up in time.
As bad as the damage suffered by the Pilion farmers was, their peers in the plain were hit by even greater devastation from last week's disastrous floods that left 16 people dead, days after wildfires killed 20 people in northeastern Greece.
---
---
The storms flooded 720 square kilometers (280 square miles), mostly prime farmland, totally destroying crops. They also swamped hundreds of buildings, broke the country's railway backbone, savaged rural roads and bridges and killed tens of thousands of livestock.
Thessaly – a major farming center for thousands of years – accounts for about 5% of national economic output, and a much larger proportion of agricultural produce, although much of that is now cotton and tobacco.
Some areas remained under threat of flooding Friday, with some lakeside dwellers warned to prepare for evacuation if needed.
---
PHOTOS: The cost of damage from the record floods in Greece's breadbasket is estimated to be in the billions
---
Greece, which has returned to fiscal health after an eight-year financial crisis that shook global markets, is now assessing the staggering cost of the flooding.
Finance Minister Kostis Hatzidakis said the precise sum remains elusive.
"But … we're talking in the billions (of euros)," he told private Antenna TV, adding that the center-right government is drafting a supplementary state budget of about 600 million euros ($638 million) for this year's immediate funding needs.
Prime Minister Kyriakos Mitsotakis was expected to outline further details during a keynote economic policy speech on Saturday.
The natural disaster came amid a cost-of-living crisis triggered by Russia's war in Ukraine which, on the back of the COVID-19 pandemic, inflated state social spending through an array of subsidies.
Hatzidakis warned that this might now be curtailed. The government is adamant that it must meet its savings targets to prove that Greece has forever rejected its former profligacy, and pending an eagerly anticipated new credit upgrade that would boost foreign investment and cut borrowing costs.
"If we send the message that in Greece we are again becoming lax and adopting wrong practices of the past, we will relapse," Hatzidakis said. "After so many sacrifices over so many years, and the progress in recent years, (that) would be an enormous shame."
Officials are confident that the savings target will be met, and the European Union, which has also pledged flood relief funds, has said this emergency spending won't be subject to Greece's budget constraints dating from the 2010-2018 financial crisis.
The government says EU assistance will contribute to urgent infrastructure repairs in Thessaly, starting with the wrecked railway line.
Nikos Tachiaos, a deputy minister for infrastructure, said the damage is "enormous," particularly to the railway, where a 50-kilometer (80-mile) stretch of the only line carrying goods and passengers between southern and northern Greece has been largely destroyed.
He said it could take up to two months to get just one track partially functioning.
"But the full rebuilding of the railway network will take a long time … and a lot of money," Tachiaos told state-run ERT television.
A flooded section of the main north-south highway partially reopened late Friday, while efforts were underway to restore drinking water to Volos, a town of about 85,000 in the shadow of Pilion.
The government has also promised speedy compensation to thousands of people whose houses were flooded and who lost livestock and farm machinery. The loss of nearly 90,000 sheep, goats, pigs and cows has been registered so far, along with more than 120,000 poultry.
In the village of Zagora on Pilion, farming union leader Thodoris Georgadakis urged authorities to mend the unpassable roads leading to local orchards where apples await harvesting.
"The cost of the storms could exceed 10 million euros ($10.7 million) for apple farmers alone," he told The Associated Press. "We expect this harvest to reach 6,500 tons, down from 22,000 on a normal year. That's only if the roads are mended soon."
The damage to crops could also push up already inflated food prices across Greece, with double-digit increases already reported in some areas. Fears have also been expressed that flooded fields will be unusable for years, though Greece's agriculture ministry has sought to play down that concern.
A ministry statement Friday warned that authorities would crack down on profiteering, adding that Thessaly grows only 7.5% of the country's total fresh fruit and vegetables, "and very little of that has been affected."
In southern Pilion, Mayor Michael Mitzikos worries about the effect on the important tourist industry, especially in battered seaside villages from which visitors had to be evacuated by sea after their road access was destroyed.
Mitzikos said the cost was "incalculable."
"There are the tourists who fled their rented rooms and hotels (amid the floods) and also all those who canceled," he said. "The season in these coastal areas normally extends into early November."
Copyright © 2023 The Washington Times, LLC.