消息
Teamsters win deal with UPS as unions buck businesses from coast to coast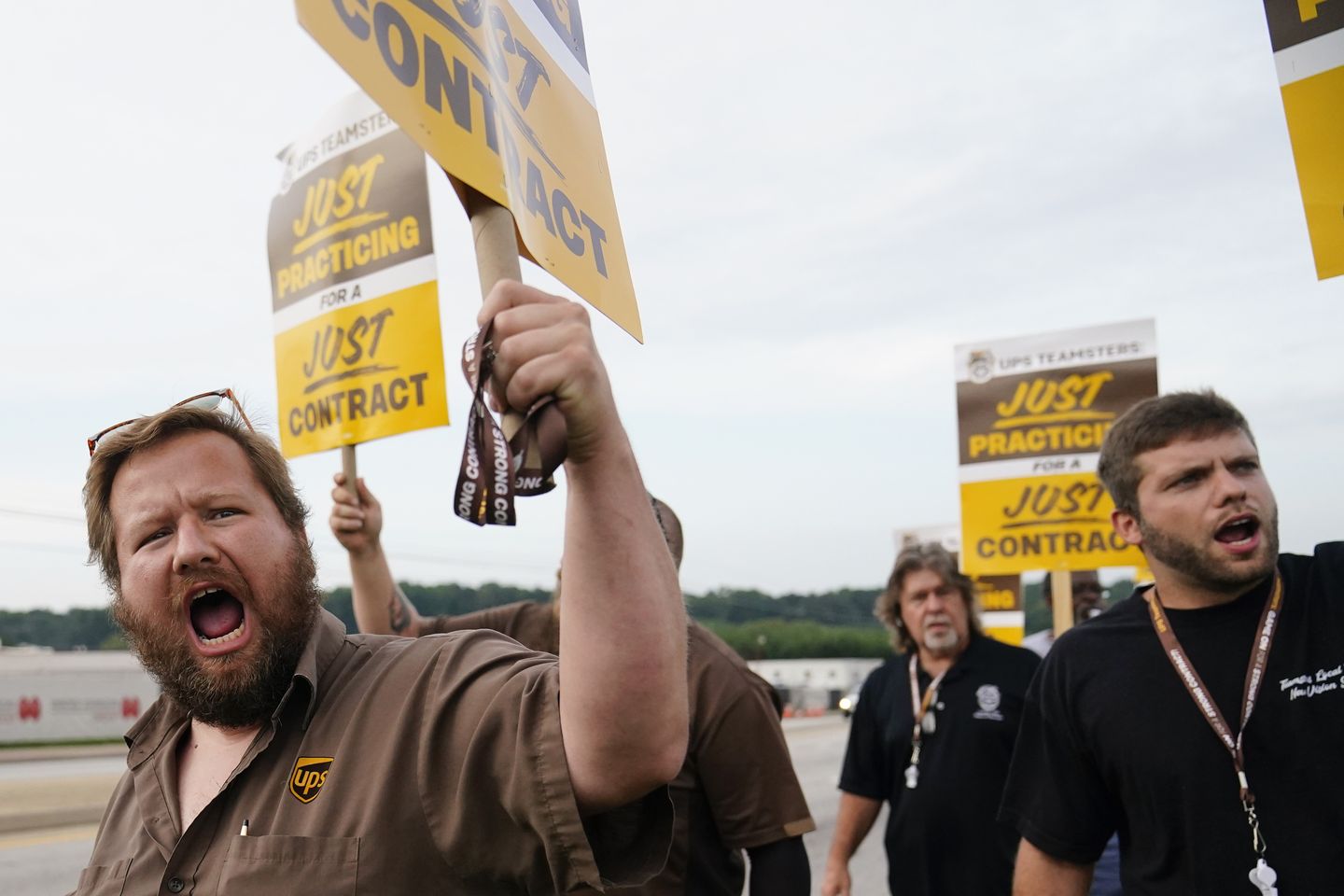 The Teamsters Union secured significant concessions from UPS on Tuesday to avoid a massive strike, but other labor conflicts still rage across the U.S.
The newly struck deal for the more than 300,000 UPS drivers included a $2.75 per hour wage increase this year and a $7.50 per hour raise over the length of the new five-year contract. Part-time workers, who are often paid much less than full-time employees, will immediately have their wages rise to at least $21 an hour.
According to UPS,  the average delivery driver currently earns $95,000 per year.
---
---
The deal, which still needs to be ratified by workers, also adds Martin Luther King Day to the list of paid holidays off and ends forced overtime on off days.
Deals remain elusive, however, in other workplace showdowns as labor unions have gone on the offensive in the delivery, automotive and entertainment industries.
The economic and political environment in the U.S. is ripe for strikes or at least threats of strikes. With low unemployment and a fiercely union-friendly president in the White House, unions now feel they've got the upper hand at the negotiating table.
FedEx pilots this week rejected an offer from the company that would have increased wages by at least 30%. 
The vote to refuse the deal was close, with 57% of members voting against the measure. Both sides agreed to continue negotiations this week, implying they remain close to an agreement. The reason the deal was rejected was not disclosed by the union. 
The company said it was disappointed with the vote's result but added it will regroup with no slowdown in service. 
Despite declining the deal, FedEx pilots can't walk out as soon as their contract expires. The pilots, like railway employees, fall under the Railway Labor Act, which requires workers to go through federally mandated union negotiations before they can strike. 
In Hollywood, the ongoing labor battle between talent and studios has cost the entertainment industry more than $1 billion. Both the Writers Guild of America and the Screen Actors Guild are on picket lines. The strikes, which began in early May, have nearly shut down all TV and film production.
The unions are asking studios for changes to residual payments and increased regulations on how AI is used in TV and films. 
Auto workers also are threatening to strike. The United Auto Workers' contract expires in September, and negotiators are using it as an opportunity to demand increased wages as well as the expansion of workplace protections in new electric vehicle plants.