Speaker Mike Johnson still fine-tuning stopgap bill to avert shutdown as time wears thin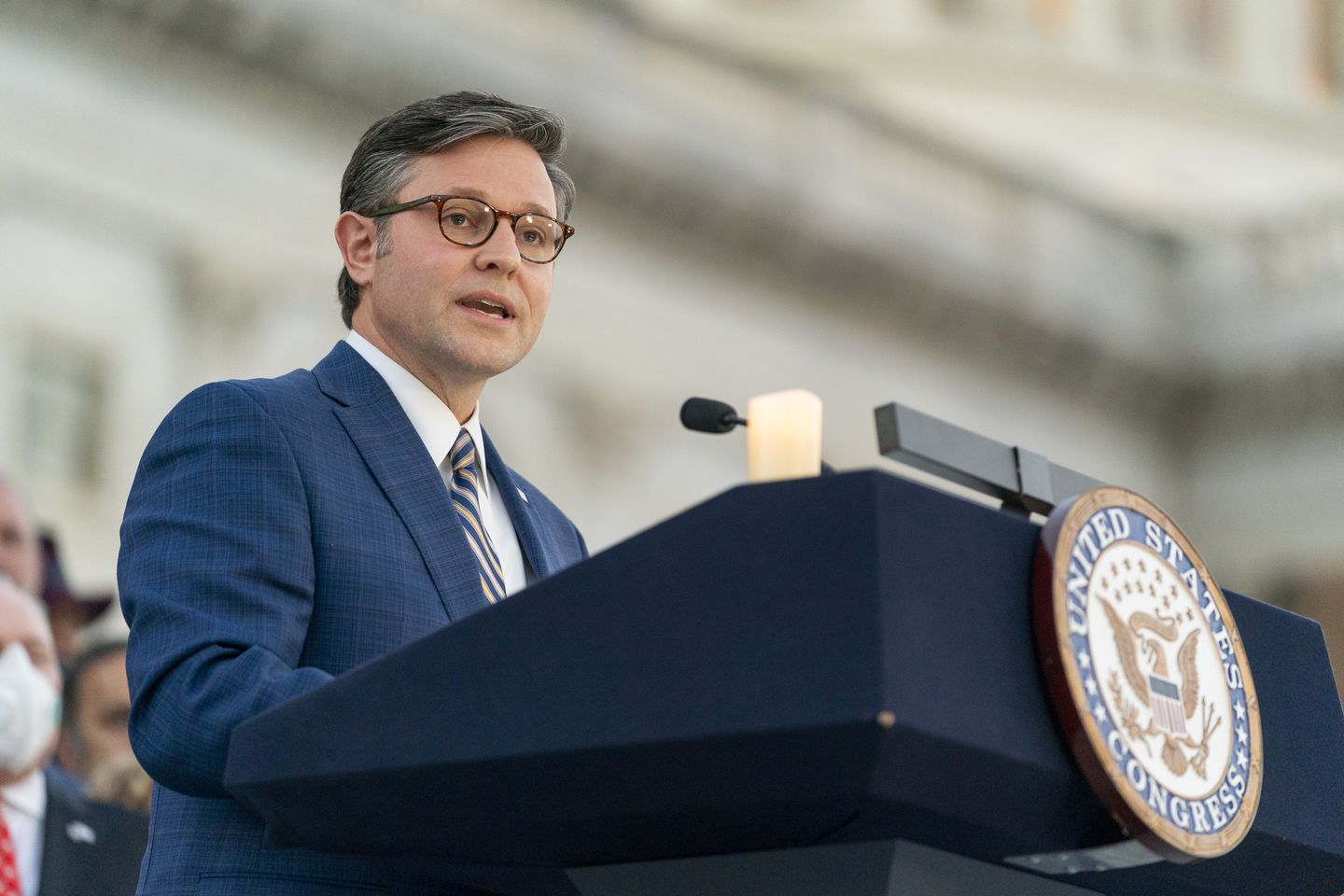 Speaker Mike Johnson has still not produced a stopgap bill to prevent a partial government shutdown, and the borrowed time to fund the government runs out next week.
The time extension granted by the previous stopgap bill will run out on Nov. 17. Top Republicans are confident that Mr. Johnson will land a bill by the end of this week, but the details of that bill are still under wraps.
Mr. Johnson, Louisiana Republican, is mulling a pair of options: One being a relatively "clean" stopgap bill, the other a two-step "ladder" approach that splits deadlines to fund the government into January and February.
---
---
Like his ousted predecessor, Rep. Kevin McCarthy, Mr. Johnson is entering familiar territory: a fractured GOP struggling to pass spending bills, arch-conservatives withholding support for a stopgap unless it has policies tacked on that will be non-starters in the Senate, lawmakers that will never support a short-term bill, and a Democrat-led Senate that will only accept a measure without policy provisions that continues funding at current levels.
But conservatives who were more chilly to former Speaker McCarthy's approach are willing to give the new speaker more wiggle room because of the truncated time he's had to solve the funding issue and because they trust him more than the California Republican Mr. McCarthy.
Mr. Johnson seems to be leaning more toward the ladder approach but has been tight-lipped on what exactly he plans to do. Lawmakers expect a vote on the bill by Tuesday, meaning the speaker has to unveil it by Saturday to pass procedural hurdles in the House.
Rep. Andy Harris, Maryland Republican, pitched the idea of a laddered approach to draw in those who are leery of voting for a stopgap bill. The arch-conservative House Freedom Caucus, of which Mr. Harris is a member, also likes the idea.
Mr. Harris told The Washington Times that the intent would be to put high-priority bills, like defense spending, on the clock for the first deadline and get them through conference with the Senate as soon as possible.
"There may be one or two members of the conference at this point who are still 'never CR' but well within the margin of what we need to pass the bill," Mr. Harris said. "We could pass the bill with the members that I know of who are 'never CR.'"
House Rules Committee Chair Tom Cole of Oklahoma said he advised Mr. Johnson "the cleaner the better" when it came to a stopgap bill so lawmakers could buy more time to finish work on the remaining spending bills.
"I don't have to manage the entire caucus, the speaker does," Mr. Cole said. "So I'm going to end up supporting what he wants."
Senate Democrats and Republicans have balked at the idea, saying that it was overly complicated. Senate Majority Leader Charles E. Schumer, New York Democrat, has begun the process of advancing a vehicle for a Senate stopgap, a move that threatens to jam the slow-moving House.
House Democrats will not touch a laddered stopgap bill, either. House Minority Leader Hakeem Jeffries, New York Democrat, called the idea "a joke," adding that pursuing a multi-step bill is driving the government toward a partial shutdown.
Rep. Thomas Massie, Kentucky Republican who voted against both stopgaps from Mr. McCarthy, told The Washington Times that he could support a laddered bill but likes a yearlong stopgap more.
Mr. Massie also successfully pitched a 1% across-the-board cut in spending in the debt ceiling deal negotiated by Mr. McCarthy and President Biden last spring. He said that his provision, which triggers in January, would not fully implement an across-the-board cut until April.
That means if Mr. Johnson does go with the laddered approach, spending could be spared from the 1% slash.
"Every time some bit of funding expires, Mike Johnson is putting his head in the lion's mouth," Mr. Massie said. "I mean, the lion bit on McCarthy, so I don't think it's wise to have too many of those discontinuities."