Senate Republicans accuse Mitch McConnell of undermining Mike Johnson on Israel war aid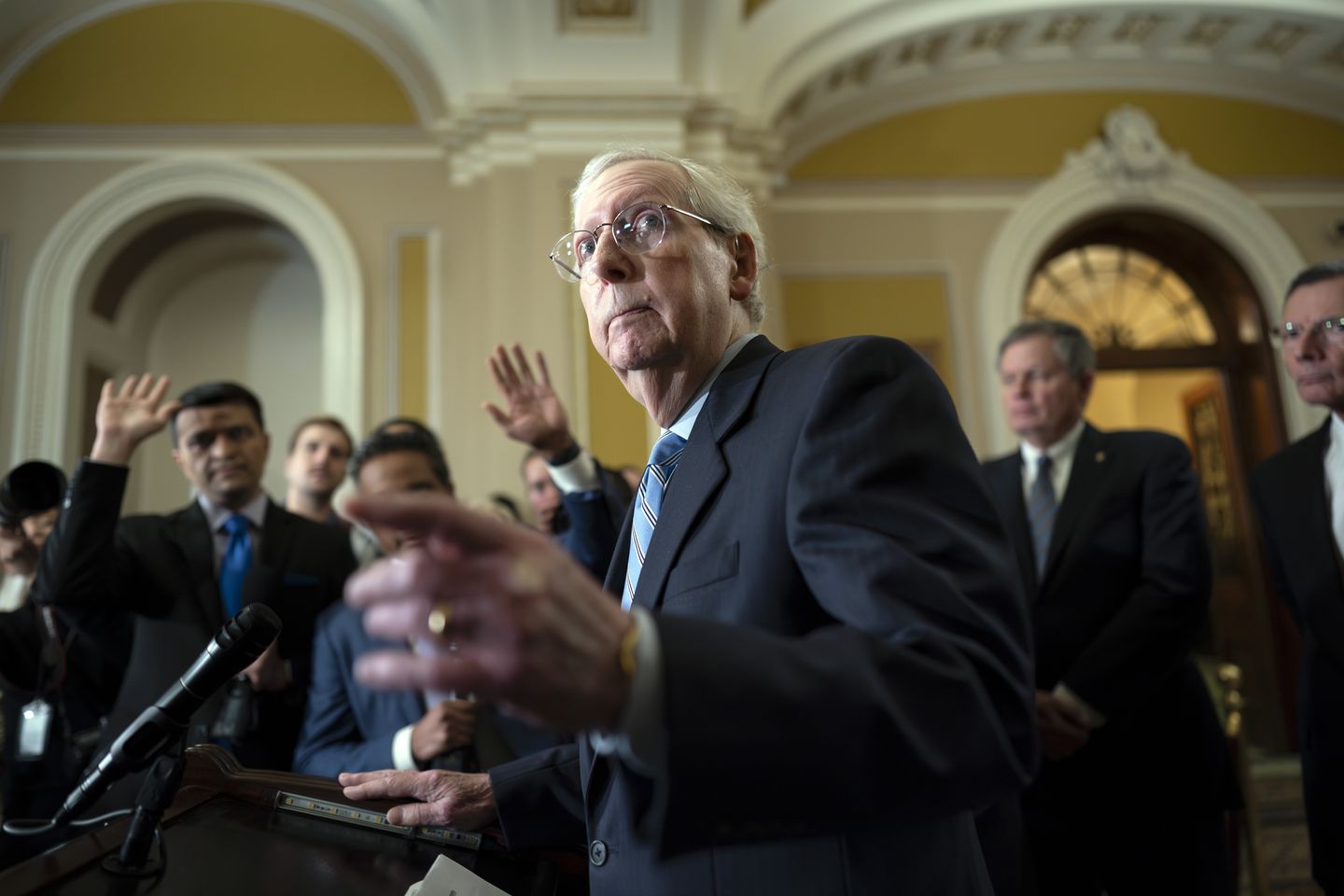 Senate Minority Leader Mitch McConnell is staring down a growing revolt from conservative members over his opposition to House Republicans' emergency aid bill for Israel.
GOP senators told The Washington Times they believe the Kentucky Republican is kneecapping newly elected House Speaker Mike Johnson by calling for a broader Israel-Ukraine package that more closely aligns with what Democrats want.
"I think our role, as Republicans in the Senate, should be to support the new speaker — not undermine him," said Sen. Ron Johnson, Wisconsin Republican. "What McConnell is doing is undermining the new speaker."
---
---
Sen. Cynthia Lummis, Wyoming Republican, said it's "very important that we support the House effort" in the wake of the chaotic weeks-long process to choose a new speaker after the ouster of Speaker Kevin McCarthy.
"It finally breaks the logjam around here and gets the process functioning again. It's not an either-or choice," Ms. Lummis said of the emergency aid for Israel and Ukraine. "We can have them both. Why not get one across the finish line, take the win and then we can start working on Ukraine?"
President Biden has requested $106 billion for Ukraine, Israel, the Indo-Pacific and the U.S. border, four policy arenas that Mr. McConnell agrees should be addressed in a comprehensive supplemental aid package.
House Republicans want to handle each issue separately with single-subject bills, setting Mr. Johnson on a collision course with Mr. McConnell and Democrats. The House this week plans to pass a $14.3 billion standalone measure for Israel that offsets the spending with IRS cuts.
Senate Majority Leader Charles E. Schumer, New York Democrat, said the Israel proposal is "insulting" and dead on arrival.
Mr. McConnell defended the decision to diverge from his House GOP counterpart, telling reporters: "Conceptually, Sen. Schumer and I are in the same place in the sense that we view all of these problems as connected."
"I'm just speaking for myself. I think we need to address all four of those areas in a credible way," Mr. McConnell said. "That's an opinion many people have. It's not surprising, but in order to make a law, you have to pass both bodies and be signed by the president."
His more outspoken approach marks a reversal from his hands-off tactic during debt-ceiling negotiations earlier this year between Mr. McCarthy and President Biden to avoid a default.
Sen. Rand Paul, Kentucky Republican, suggested Mr. McConnell was out of touch with the GOP base and is "cutting his legs out from under" Mr. Johnson and siding with Democrats.
"His opinion is disconnected from the conservative electorate of Kentucky and from the conservative electorate in the Republican Party," Mr. Paul said.
Mr. McConnell's top deputies also pushed back against the House speaker's approach. They emphasized that Democrats still have work to do on stricter immigration policies than Mr. Biden has proposed to combat the unprecedented rush at the southern border if they hope to strike a bipartisan deal. 
Mr. Biden's package will primarily help process immigrants who are in the country illegally rather than deter them from coming in the first place with policy changes. His proposal includes money to hire more Border Patrol agents and immigration judges, and to hold more migrants awaiting deportation hearings.
Mr. McConnell's lieutenants said there was significant support among Senate Republicans for bundling the aid. Senate Democrats only need nine GOP votes to pass the bill.