Joe Biden touts safety in AI order that gives feds more control over the powerful technology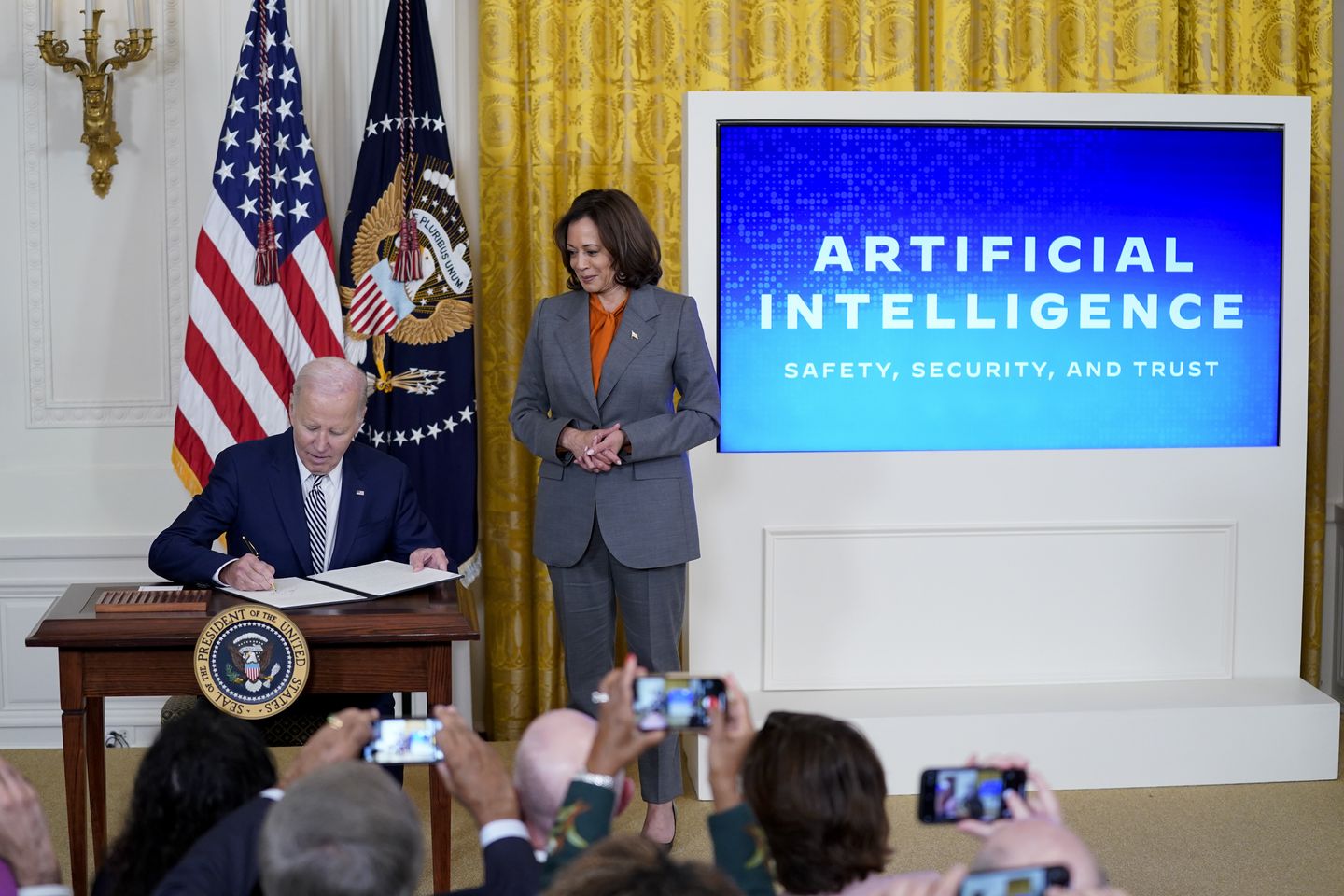 President Biden's executive order on artificial intelligence is under fire from Big Tech and free-market advocates for potentially smothering innovation and hamstringing the U.S. in the global AI race.
Mr. Biden's sweeping order unveiled on Monday attempts to contain the dangers posed by powerful "thinking machines" by requiring tech companies to share AI test results with the feds.
"As artificial intelligence expands the boundary of human possibility and tests the bounds of human understanding, this landmark executive order is a testament to what we stand for — safety, security, trust [and] openness," Mr. Biden said at the White House. 
---
---
The tech industry group NetChoice, which represents technology companies, said Americans do not need bigger government to keep people safe from AI.
NetChoice, which counts Amazon, Google, and Meta as members, said better enforcement of existing laws is preferable to the new AI policy from Mr. Biden. 
"A knee-jerk reaction to wrap AI in red tape could stall America's innovation engine, block life-saving technologies, and help global competitors like China, potentially harming American dominance in technological entrepreneurialism," NetChoice said on social media. "Many concerns raised about AI are already addressed by existing laws."
---
SEE ALSO: Artificial intelligence is everywhere — and it's just getting started
---
Mr. Biden's team does not view existing law as sufficient.
For example, the White House said the order creates a new safety program within the Health and Human Services Department to identify and remedy unsafe health care practices using AI, statistical modeling and advanced computing that enables machines to complete tasks requiring complex reasoning. 
The president directed the National Institute of Standards and Technology to develop new testing requirements for AI makers that the Department of Homeland Security will impose, according to a White House fact sheet.
The Commerce Department is separately tasked with making guidance for content authentication and watermarking so people know when they are viewing and consuming AI-generated content.  
Additional threats to American infrastructure from AI systems will be reviewed by the Energy and Homeland Security departments, which will examine chemical, nuclear, and cyber risks among other challenges. 
Adam Thierer of the free-market think tank R Street Institute said the executive order's "broad and quite amorphous calls for expanded government oversight" could give Mr. Biden regulatory control over AI.
Mr. Thierer, an innovation policy expert, said the Biden administration appeared poised to transform voluntary guidelines into a "back-door regulatory regime for AI."
"The danger exists that the U.S. could undermine the policy culture that made our nation a hotbed of digital innovation and investment," Mr. Thierer said on social media. "We don't want to become Europe on tech policy."
Mr. Biden's team is not concerned about working in tandem with Europe. They consulted with the E.U., U.K. and several other nations in crafting the new order, according to a White House fact sheet.
Mr. Biden tasked the State and Commerce departments to lead a U.S. push to create international frameworks for governing AI risks and safety. Vice President Kamala Harris is headed to the U.K. later this week to discuss AI policy at an international summit.  
Those working with the Biden administration on AI were cautiously optimistic about the president's executive actions. 
Jack Clark, co-founder of the Anthropic, a self-styled AI safety and research company, said several aspects of the order are likely to be helpful. 
Anthropic collaborated with the Biden administration on AI by joining a voluntary commitment to manage risk. 
"Some quick thoughts on the White House Executive Order on AI: Seeing such a heavy emphasis on testing and evaluating AI systems seems good — you can't manage what you can't measure," Mr. Clark said on X. 
While the Biden administration creates implementation plans for the president's order and huddles with international officials, Congress is scrutinizing proposals for new AI law.
Sen. Mark Warner, chairman of the Senate Select Committee on Intelligence, said he was impressed by the breadth of Mr. Biden's executive action.
"While this is a good step forward, we need additional legislative measures," the Virginia Democrat said. 
Senate Majority Leader Charles E. Schumer is convening another private forum for senators to review AI on Wednesday, with an emphasis on workforce issues. 
Mr. Schumer, New York Democrat, said the Senate is months away from uniting around AI legislation. Mr. Biden and Mr. Schumer are expected to meet this week to discuss the AI agenda.