Joe Biden seeks UAW endorsement during visit to Illinois EV-battery plant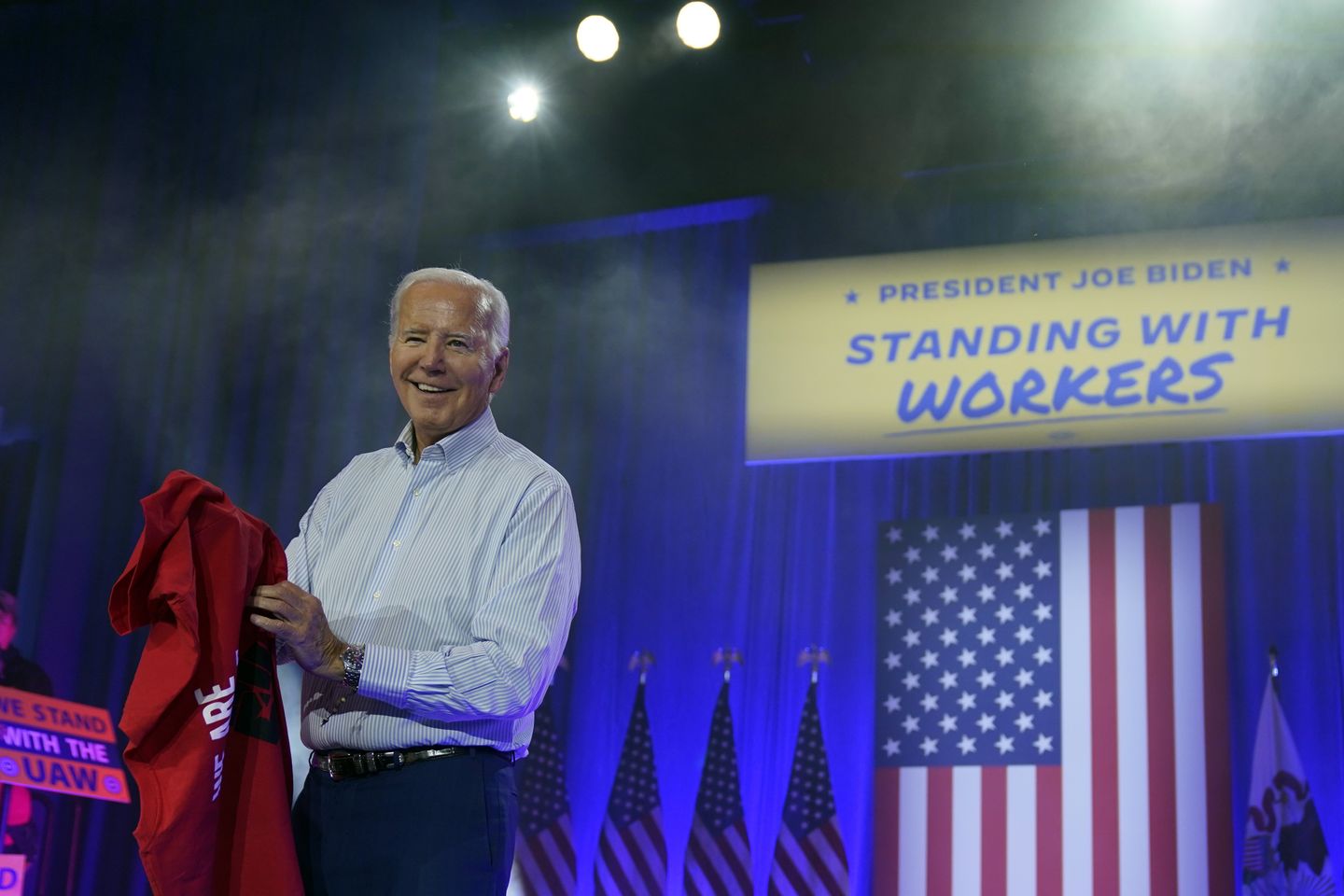 President Biden again flashed his pro-union credentials during a speech Thursday to members of the United Auto Workers, one of the few major unions not to have endorsed his re-election bid.
Mr. Biden toured a newly reopened Stellantis plant in Belvidere, Illinois, and met with UAW President Shawn Fain on the heels of a six-week strike by the union against the Big Three U.S. automakers.
The UAW is expected to endorse Mr. Biden's reelection bid, especially after Mr. Fain in September declined to meet with former President Donald Trump, who is currently the frontrunner for the 2024 Republican presidential nomination.
---
---
Mr. Fain dismissed the former president as an out-of-touch billionaire who doesn't have "any bit of care" about the working class and union members.
Still, it doesn't appear that the UAW and Mr. Fain have warmed up to Mr. Biden, even though he publicly sympathized with workers during their historic strike. In September, Mr. Biden made history by becoming the first sitting president to march in a picket line with striking UAW workers.
In Thursday's remarks, Mr. Biden made it clear he desperately wants the union's endorsement. He began his speech by reminding workers he's won their endorsement in the past.
"I've been involved in the UAW longer than you were alive, man," Mr. Biden told the plant workers.
The UAW has withheld its reelection endorsement of Mr. Biden because of its concerns about his efforts to push the industry to make all-electric vehicles.
A 2018 UAW study found that mass adoption of electric vehicles could cost the union as much as 35,000 jobs. UAW leadership has also expressed concerns that most EVs are manufactured as part of joint ventures with European automakers and not with U.S. union labor.
Stellantis itself is a corporate conglomerate, not a historic car brand, that is headquartered in the Netherlands and was created in 2021 by the merger of two European auto giants — Peugeot and Fiat. At the time, Fiat owned Chrysler and related U.S. brands Dodge, Jeep and Ram.
Ahead of his appearance in Illinois, Mr. Biden sought to alleviate such fears by telling reporters that he "absolutely" supports the UAW's efforts to unionize workers at Tesla and Toyota plants.
He also hailed the gains autoworkers won in their recent strike.
"I'm a little selfish. I want this type of contract for all autoworkers, and I have a feeling the UAW has a plan for that," Mr. Biden told the crowd. "The future of the automobile industry will be made in America by American union workers."
Mr. Biden said the reopening of the Belvidere plant, which will make EV batteries, underscores that electric vehicles and good-paying union jobs can exist together.
The plant reopening will bring back more than the 1,200 jobs lost when the plant shut down in March. Restoring those jobs, which will return at higher salaries, was the result of the agreement between UAW and Stellantis.