Joe Biden makes pitch at APEC gathering for U.S. commitment to region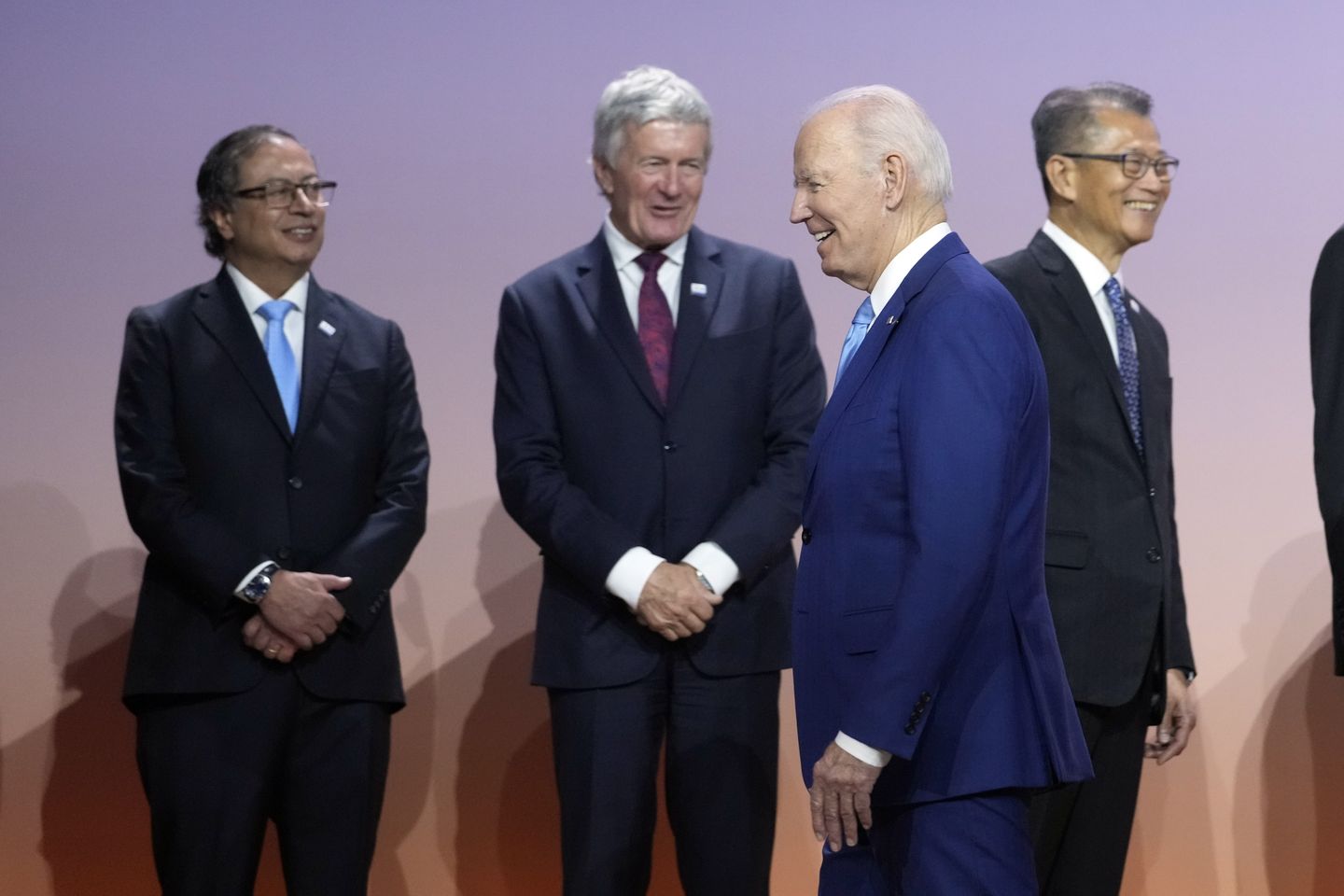 SAN FRANCISCO — President Biden on Thursday made America's case to national leaders and CEOs attending the Asia-Pacific summit that the United States is committed to high standards in trade and to partnerships that will benefit economies across the Pacific.
China's rise, and hot wars involving U.S. allies in Ukraine and the Middle East, have raised fresh doubts about Washington's ability to focus on the Pacific Rim, doubts Mr. Biden sought to dispel.
"We're not going anywhere," he declared.
---
---
Fresh off his meeting with Chinese President Xi Jinping, Mr. Biden also told business leaders that the U.S. was "de-risking and diversifying" but not "decoupling." from Beijing. But he did not mince words in suggesting the U.S. and friends in the Pacific could offer businesses a better option than China.
"This is not all kumbaya but it's straightforward," Mr. Biden said. "We have real differences with Beijing when it comes to maintaining a fair and level economic playing field and protecting your intellectual property. "
The president sought to send a clear message about American leadership as business leaders grapple with the risks of doing businesses in the midst of wars in the Middle East and Europe and a still shaky post-pandemic economy. He was also spending time on Thursday letting Indo-Pacific leaders know that the U.S. is committed to nurturing economic ties throughout the region.
While his summit with Mr. Xi captured the bulk of the media coverage, Mr. Biden is courting world leaders at the Asia-Pacific Economic Cooperation summit and through his administration's Indo-Pacific Economic Framework, a group that includes most of the 21 APEC member economies and a few others, like India, that aren't members of the larger forum.
Mr. Biden in his remarks to the CEOs sought to highlight his administration's efforts to strengthen ties with the region. APEC members have invested $1.7 trillion in the U.S. economy, supporting some 2.3 million American jobs. U.S. companies, in turn, have invested about $1.4 trillion in APEC economies.
The U.S. hasn't hosted the annual leaders' summit — started in 1993 by President Bill Clinton — since 2011. The group met virtually in 2020 and 2021 because of the coronavirus pandemic. Leaders did gather in Bangkok last year, but Mr. Biden skipped the summit because his granddaughter was getting married, and he sent Vice President Kamala Harris in his place.
Demonstrations in and around APEC continued on Thursday. Hours before leaders were to gather at the Moscone Center for the summit, protesters calling for a cease-fire in the Israel-Hamas war were detained by police after shutting down all traffic over a major commuting bridge heading into San Francisco.
After decades of trade built on the premise of keeping prices low, accessing new markets and maximizing profits, many companies are now finding a vulnerable global economy.
The COVID-19 pandemic exposed frailties in their supply chains. Climate change has intensified natural disasters that can close factories. The Israel-Hamas war and Ukraine's defense against the Russian invasion have generated new financial risks, and new technologies such as artificial intelligence could change how companies operate and displace workers.
Mr. Xi too, met with American business leaders — at a $2,000-per-plate dinner Wednesday evening. It was a rare opportunity for the business leaders to hear directly from the Chinese president as they seek clarification on Beijing's expanding security rules that could choke foreign investment.
"China is pursuing high-quality development, and the United States is revitalizing its economy," he said, according to an English language translation. "There is plenty of room for our cooperation, and we are fully able to help each other succeed and achieve win-win outcomes."
In a bit of soft-power diplomacy, he signaled that China would send the U.S. new giant pandas, just a week after three from the Smithsonian National Zoo were returned to China, much to the dismay of Americans. There are only four pandas left in the United States, all at the Atlanta Zoo.
White House officials said Mr. Biden has been bolstered by signs the U.S. economy is in a stronger position than China's and that the U.S. was building stronger alliances throughout the Pacific.
Part of that is through the Indo-Pacific Economic Framework, which was announced during a May 2022 trip to Tokyo. It came six years after the U.S. unilaterally withdrew from the Trans-Pacific Partnership, a traditional free-trade deal that was signed by 12 countries.
Commerce Secretary Gina Raimondo said the signing of agreements in the IPEF reflected the U.S. commitment to other Asian countries. A broader theme of the APEC meeting, she said, was that "the U.S. is a durable, enduring, reliable partner for countries in that region."
The new framework has four major pillars: supply chains, climate, anti-corruption and trade. There won't be any official trade deals to announce — the "framework" label allows Mr. Biden to bypass Congress on any agreements reached with the 13 countries.
Copyright © 2023 The Washington Times, LLC.