消息
Hakeem Jeffries urges House Republicans to bring Senate temporary spending measure to floor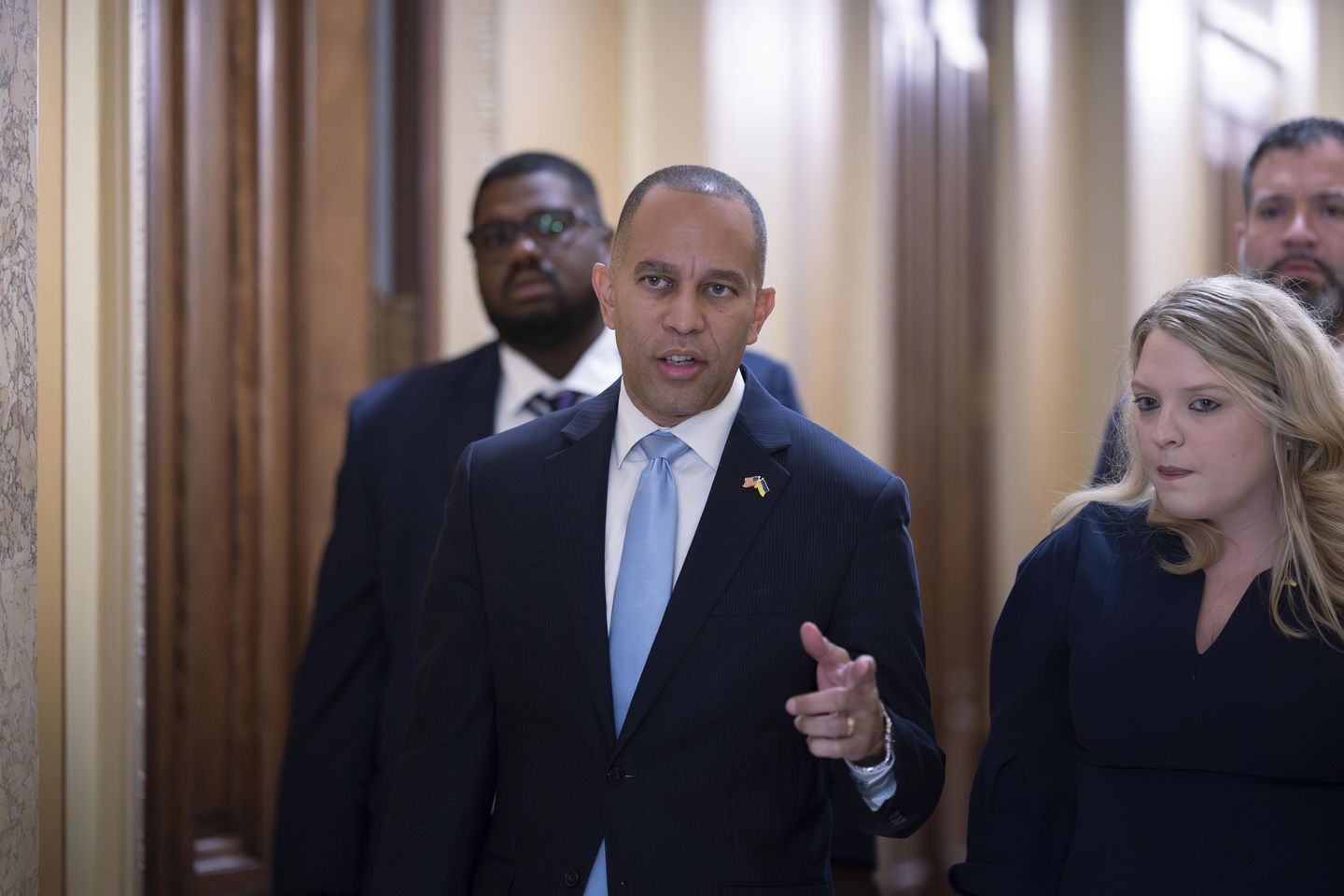 House Minority Leader Hakeem Jeffries called on House Republicans to support the Senate's temporary spending bill as a way to avert a government shutdown Saturday.
"We have a bipartisan bill right now working its way through the United States Senate. It will pass in a strongly bipartisan way," he said Thursday.
"They will then send that bill to the House of Representatives. Extreme MAGA Republicans face a clear choice: Put the bipartisan continuing resolution on the floor of the house for an up or down vote. And we can avoid the extreme MAGA Republican shutdown."
---
---
House Speaker Kevin McCarthy on Wednesday doubled down on demands that Democrats accept border security as part of a stopgap spending bill to avoid a government shutdown this weekend.
He said President Biden should come to the negotiating table to talk about Republicans' plans to close the border and keep the government open, not vice versa.
"So why am I asking the president to sit down? Because the Senate has not done their job," said Mr. McCarthy, California Republican. "The Senate has not taken up the House's work, so no, the president should step in and do something about it. Otherwise, the government will shut down."
---
SEE ALSO: Divided House has no clear stopgap bill as shutdown looms
---
Mr. Jeffries shot back that Democrats will not help Republicans pass a continuing resolution with any partisan policy amendments.
"These are partisan political games that they're playing," Mr. Jeffries said. "The continuing resolution in the Senate didn't have any of that nonsense — no partisan policy amendments that aren't designed to promote the health, safety and well-being of the American people."
The New York Democrat also dangled his caucus' discharge petition before Republicans as an option to avoid a government shutdown.
A discharge petition is a procedural strategy that the majority of the lower chamber can use to bypass the speaker and force a floor vote on a bill.
Democrats already have one focused on temporarily funding the government with 213 signatures from their caucus, and they need only five Republicans to bring the measure to the floor.
Reps. Mike Lawler, Marc Molinaro, both New York Republicans representing Biden-won 2020 districts, and Rep. Don Bacon, Nebraska Republican, have all expressed interest in supporting this provision.
However, Mr. Jeffries questions whether any GOP lawmaker is serious about doing that.
"There is zero evidence that Mike Lawler or any of the so-called moderate Republicans in New York or anywhere else throughout this nation are willing to work with House Democrats to end this extreme MAGA Republican shutdown crisis," he said.
Supporters of the discharge petition face an uphill battle. The measure won't make it to the floor before Saturday's deadline.
Even after a discharge petition meets the 218 signature threshold, House rules require a seven-day legislative waiting period before a lawmaker can advance it.