Fire that indefinitely closed section of vital Los Angeles freeway was arson, Gavin Newsom says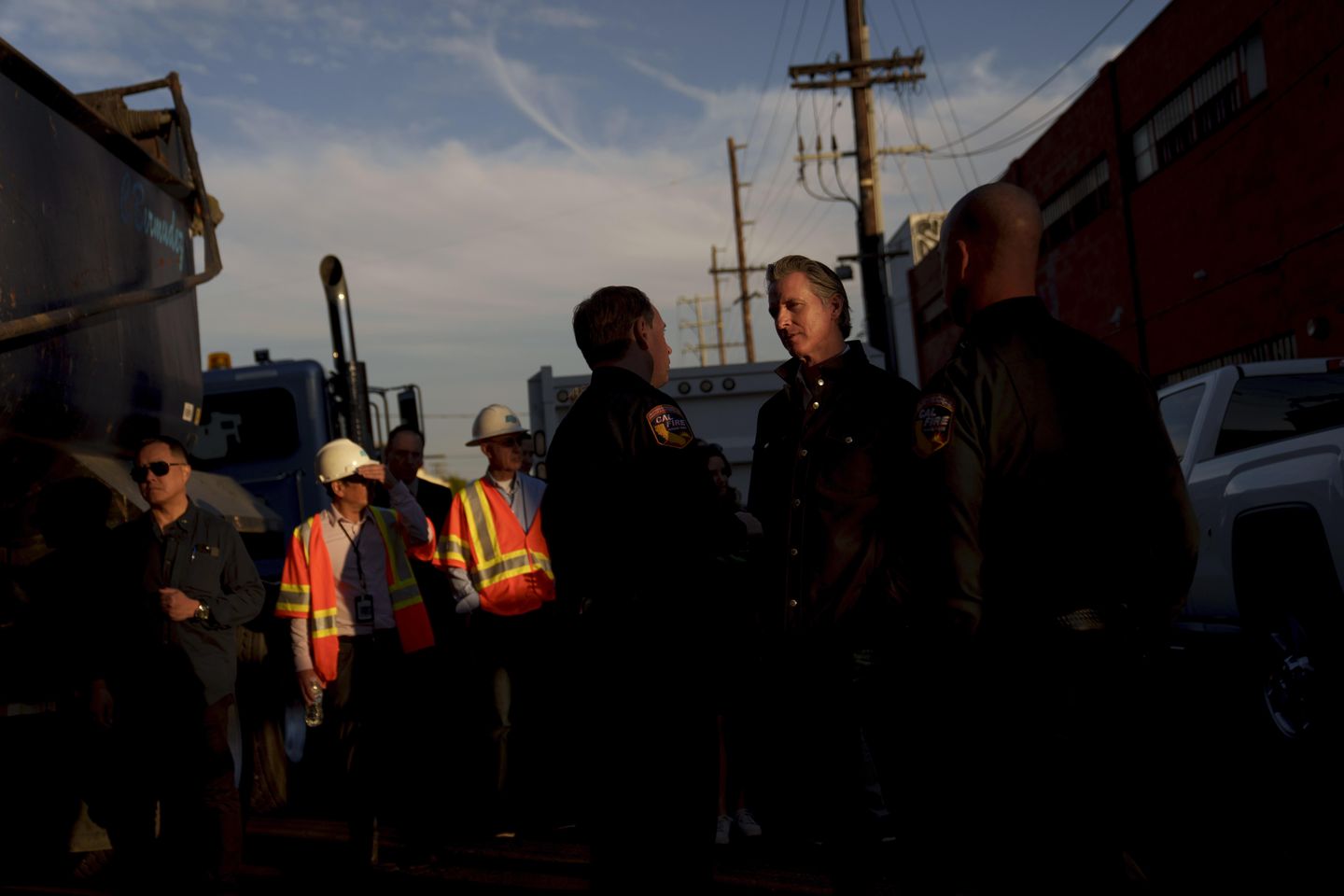 LOS ANGELES — Arson was the cause of a massive weekend fire that charred and indefinitely closed a vital section of a major Los Angeles freeway, causing major traffic headaches for hundreds of thousands of commuters, California authorities said.
Gov. Gavin Newsom said investigators were trying to determine if more than one person was involved. He gave no other details.
"I have to stress that we have determined what started the fire," Newsom told reporters Monday.
---
---
The fire erupted Saturday in two storage lots under an elevated section of Interstate 10 where pallets, vehicles and other materials combusted quickly and the fire grew. It left many columns charred and chipped and the deck guardrails twisted. Crews shored up the most damaged section for the safety of workers clearing the debris. It's still unclear what structural damage, if any, the blaze caused to the freeway.
The I-10 runs east-west across the heart of the metropolis and connects with other major freeways. Monday brought the first weekday test for commuters navigating new freeway routes or surface street detours around the closed section south of downtown.
The result was both encouraging and "a reminder of the significant challenges we face for the foreseeable future until the 10 can be safely reopened," Laura Rubio-Cornejo, general manager of the city Department of Transportation, said as Tuesday's commute began.
---
PHOTOS: Fire that indefinitely closed section of vital Los Angeles freeway was arson, governor says
---
The Monday morning commute was congested but did not result in gridlock, indicating drivers heeded warnings, but the evening commute saw a much higher degree of congestion, Rubio-Cornejo said. Surface street detours had a 14.7% increase in traffic volume and traffic engineers adjusted signal patterns to deal with the load, she said.
Beyond a massive traffic headache, the closure is expected to be felt well beyond the metropolis, including possibly slowing the transportation of goods from the twin ports of LA and Long Beach, federal officials said. The ports handle more than half of the goods coming into the country. President Joe Biden was briefed on the fire.
"It's disrupting in every way, whether you are talking about traveling to and from work or your child care plans and the flow of goods and commerce, this will disrupt the lives of Angelenos," LA Mayor Karen Bass said.
Los Angeles residents were urged to avoid travel to the area Monday and to work from home if possible.
"Our streets cannot handle 300,000 cars," Bass said, referring to how many vehicles use the I-10 stretch daily.
Officials have said the damage is reminiscent of the 1994 Northridge earthquake that crumpled elevated sections of I-10. After the quake, it took more than two months to repair I-10 – and that was considered significantly fast.
Newsom said early tests show the deck "appears to be much stronger than originally assessed." Concrete and rebar samples taken Monday from the superstructure, decks and columns will help determine "whether or not we're tearing this down and replacing it, or we're continuing the recovery and repairs," he said.
"This isn't going to be resolved in a couple of days, and it's not going to take a couple years," Federal Highway Administrator Shailen Bhatt told The Associated Press. "But whether it's weeks or months, we're still too early to tell."
Bhatt said the fiery June 11 crash of a tractor-trailer hauling gasoline in Philadelphia that collapsed an elevated section of Interstate 95, snarling traffic and hurting area businesses, highlights the impact of such disasters not only on a city but on the nation.
"The ports are still open and the goods will still flow, but when you remove a section of the interstate that carries 300,000 vehicles a day, there's going to be spillover impacts," Bhatt said.
The closure also raised worries about the impact on downtown businesses.
"Our businesses are just bouncing back from the COVID shutdowns. Business was just getting good," said Blair Besten, director of LA's Historic Core business improvement district.
Flames reported around 12:20 a.m. Saturday ripped through two storage lots in an industrial area beneath I-10, burning parked cars, stacks of wooden pallets and support poles for high-tension power lines, city fire Chief Kristin Crowley said. No injuries were reported.
At least 16 homeless people — including a pregnant woman — living underneath the freeway were taken to shelters. More than 160 firefighters responded to the blaze, which spread across 8 acres and burned for three hours.
California Fire Marshal Daniel Berlant said investigators have identified where the fire started and what caused it after sorting through the rubble for evidence, but did not specify what they found. He had no information on a suspect and that investigators are talking to witnesses, including homeless people and nearby business owners.
Storage yards under highways are common statewide, with the money from the leases going to public transit. Newsom said the practice would be reevaluated following the fire.
The governor said California has been in litigation with Apex Development, Inc., the owner of the business leasing the storage property where the fire started. The lease is expired, Newsom said, and the business had been in arrears while illegally subleasing the space to five or six other entities.
"They've been out of compliance for some time, that's why we're going to court" early next year, Newsom said.
Mainak D'Attaray, an attorney for Apex Development, confirmed the lawsuit in an email to The Associated Press.
"We are currently investigating ourselves what happened at the yard under the freeway. As such, we are not prepared to give an official statement or answer questions until we have determined what actually occurred," D'Attaray said.
Ertugrul Taciroglu, chair of the civil and environmental engineering department at the University of California, Los Angeles, said part of the challenge is how expensive real estate has become.
"Every piece of land is being utilized, so I can see the pressure or the incentives for making use of these spaces under these highways," he said.
Two contractors have been hired to clean up the hazardous material and to shore up the freeway, according to California Secretary of Transportation Toks Omishakin.
Repairs will require environmental waivers and federal funding, officials said.
In 2011, a fire from a poorly maintained fuel tanker that burst into flames damaged a stretch of State Route 60 — a key freeway connecting LA with its eastern suburbs — and took six months to reopen at a cost of $40 million.
The city and county of Los Angeles agreed in 2020 to provide housing for almost 7,000 people living under freeways and near exit and entrance ramps. In approving the deal, a federal judge said unhoused residents in those areas face particularly deadly hazards.
___
Watson reported from San Diego. Associated Press writer Christopher Weber in Los Angeles contributed to this report. McMurray reported from Chicago.
Copyright © 2023 The Washington Times, LLC.