消息
China, Russia and other emerging economies turn to main BRICS summit agenda in South Africa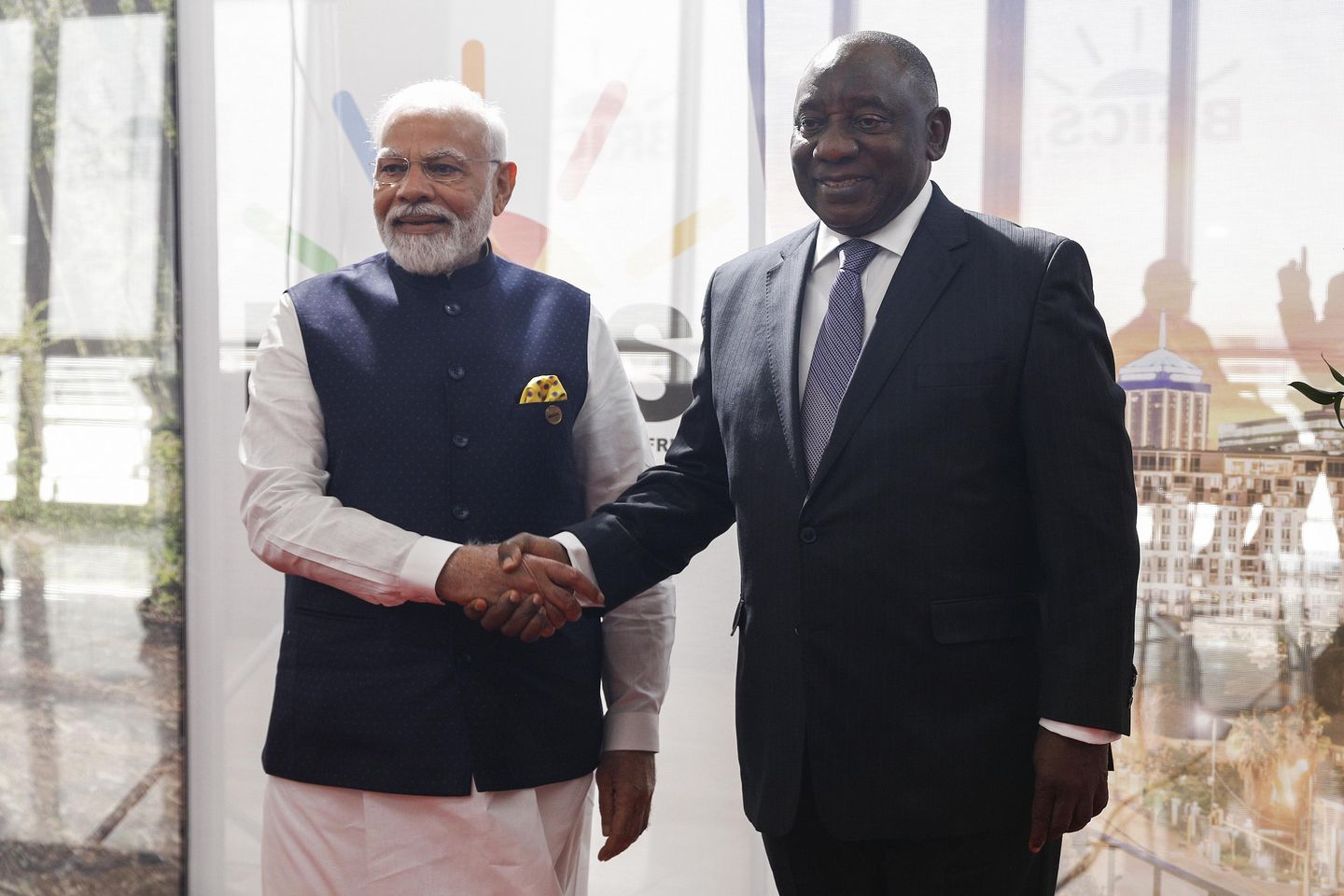 JOHANNESBURG (AP) — Leaders of some of the developing world's most important economies turned Wednesday to the main business of their summit in South Africa, a day after a speech by Russian President Vladimir Putin gave the gathering an anti-Western tinge that officials had been hoping to avoid.
The BRICS group of emerging economies made up of Brazil, Russia, India, China and South Africa are debating whether to expand their bloc and allow in new members more than a decade after it came into existence.
More than 20 countries have formally applied to join the group, officials say, with Saudi Arabia one of the most significant.
---
---
Four of the bloc's leaders are in Johannesburg for the group's first in-person meeting since the COVID-19 pandemic, including Chinese President Xi Jinping. Putin is not attending after an International Criminal Court arrest warrant for him over the war in Ukraine complicated his travel to South Africa, but he was participating virtually.
The Russian leader used a 17-minute pre-recorded speech aired on the opening day of the summit on Tuesday to lambast the West over the war in Ukraine and the financial sanctions placed on Russia as punishment for its invasion.
He said a critical deal allowing Ukraine to move grain out of its Black Sea ports that Russia halted last month would not be reinstated unless Russian conditions are met.
In the buildup to the three days of talks in Johannesburg, BRICS officials had pushed back at suggestions the bloc was taking an anti-Western turn under the influence of Russia and China. Putin's address put the deteriorating geopolitical climate at the center of the gathering.
Xi added to that in a speech that was read out by a Chinese government minister and alluded to the U.S.-China economic friction and warned of the "abyss of a new Cold War."
Xi, Brazilian President Luiz Inácio Lula da Silva, Indian Prime Minister Narendra Modi and South African President Cyril Ramaphosa began talks over dinner at a luxury estate in suburban Johannesburg on Tuesday night, officials said, ahead of the summit's main day of discussions on Wednesday. Foreign Minister Sergey Lavrov represented Russia in person, while Putin also participated in those dinner discussions virtually.
There appears to be momentum for expansion, with all five leaders backing the move in principle, although the exact criteria new members might need to meet to join must still be ironed out.
BRICS is a consensus-based organization and all five member countries must agree before any expansion.
The bloc has sometimes failed to put into action any coherent policy, largely because of the disparate economic and political priorities of its members and the increasing rivalry between China and India – the globe's most populous countries and the developing world's economic powerhouses.
Alongside expansion, there's also talk by the BRICS members of adopting a broad economic policy that seeks a move away from U.S. dollar-based trade within the bloc.
The group's stated intention to move away from the world's dominant currency won't take down the dollar overnight – and it's yet to see any concrete agreements to implement the idea.
According to calculations by Federal Reserve researchers, 96% of trade in the Americas from 1999 to 2019 was invoiced in dollars, and 74% of trade in Asia. Everywhere else outside Europe, 79% of trade was done in dollars, underlining its status as the world's de facto currency.
Still, the dominant dollar is one of a growing number of gripes in the developing world. Many in the Global South also view international institutions like the U.N., the World Bank and the International Monetary Fund as not serving their interests.
China and Russia are more than happy to take advantage of that sentiment for their own agendas, analysts say. But they also note that the fact that more than 20 developing-world countries have applied to join BRICS and at least another 20 have expressed interest shows some of the bloc's talk of an unfair global setup has hit home with many.
"Whatever the achievements of the BRICS bloc … its very existence and the queue of developing economies trying to join show a much broader unhappiness in the Global South with the current global order," said Cobus van Staden of the China Global South Project, which tracks China's engagement with developing world countries. "Whether that unhappiness will cause them to rally around China is a different issue."
Copyright © 2023 The Washington Times, LLC.