消息
Biden's approval rating on the economy stagnates despite slowing inflation, AP-NORC poll shows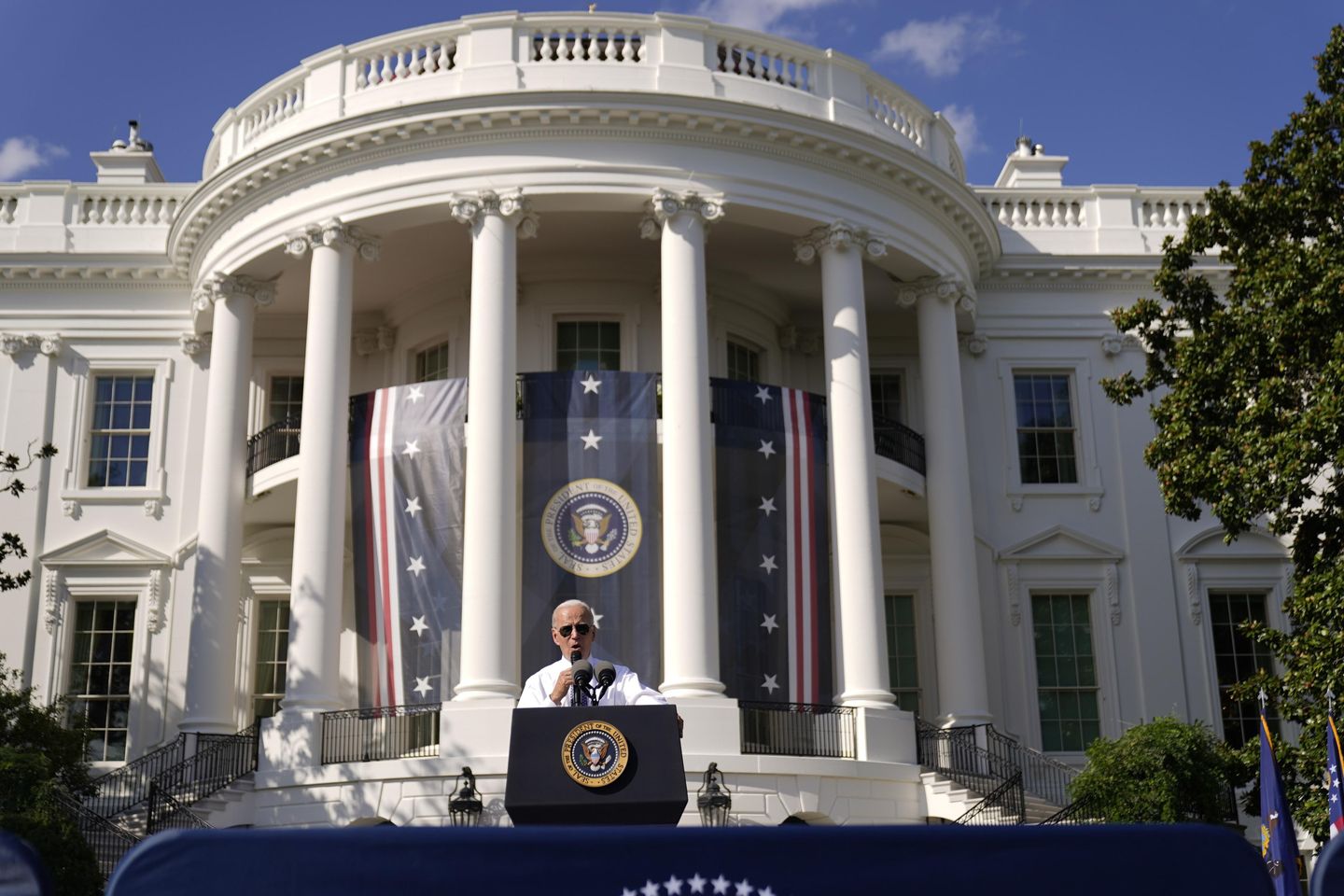 WASHINGTON (AP) — President Biden has devoted the past several weeks to promoting the positive impacts of his policies — but his efforts have yet to meaningfully register with the public.
Only 36% of U.S. adults approve of Biden's handling of the economy, slightly lower than the 42% who approve of his overall performance, according to the new poll from The Associated Press-NORC Center for Public Affairs Research.
Both figures are close to where Biden's approval numbers have stood for about the past year and a half, including just two months ago. Signs of an improving economic outlook have done little to sway how people feel about the Democratic president as he gears up for a 2024 reelection campaign that could pit him against his predecessor and 2020 opponent, Republican Donald Trump.
---
---
Job growth has stayed solid with the unemployment rate at 3.5%, while the pace of inflation has slowed sharply over the past year to the annual rate of 3.2%.
Both Biden and Trump have weaknesses as older candidates seeking a rematch. Trump, 77, faces a series of criminal indictments that include his possession of classified material and allegations that he tried to overturn the 2020 election, which has rallied support among Republicans while leaving him with substantial vulnerabilities in a potential general election contest.
Biden, 80, has yet to fully bring Democrats to his side as the lingering aftershocks of inflation still weigh on people's minds. Along with members of his cabinet and Vice President Kamala Harris, Biden has been speaking about the $500 billion worth of new investments by private companies that he said came from incentives he signed into law.
---
SEE ALSO: Inflation Reduction Act is tortuous politics for Democrats
---
Erica Basile, a teacher who describes herself as a "staunch Democrat," said she feels the economy is "mediocre, but improving."
"I do think in many ways they're working very hard at getting the economy back on track post-COVID," said Basile, who lives in Lynnwood, Washington.
Just 65% of Democrats approve of Biden's economic leadership, while 76% approve of how he's handling the job overall.
In follow-up interviews, some survey respondents felt torn between the desire to return to a sense of normalcy after Trump's presidency and the desire for even more sweeping policies to address climate change, health care costs and taxes.
"When Joe Biden was selected to be the nominee and eventually won, my feeling at the time was that he could be the most milquetoast and undramatic president to help the country cool down," said Steven Peters, 41, who works in information technology in White House, Tennessee. "Unfortunately, that's what he's been. I'm dissatisfied because I had hoped there would be more change."
Peters added, "He's really middle of the road when a lot of people would like to see more dramatic action."
For GOP supporters, such as Merritt Rahn, 74, Biden has gone too far. Rahn said he is retired but also works at Home Depot and sees higher gasoline and food costs as making it harder for families to get by financially. The Jensen Beach, Florida, resident said Biden will further hurt the U.S. by moving energy sources away from oil and gas.
"It's a death to our society and economy," said Rahn, who added that he believes Biden "has no clue what's going on."
The poll also found that 55% of Democrats say they don't think Biden should run again in 2024, though a large majority – 82% – say they would definitely or probably support him if he is the nominee. Overall, only 24% of Americans say they want Biden to run again.
Among Democrats who approve of how Biden is handling the economy, 58% would like him to seek another term. Just 20% of those who disapprove of his performance on the issue want the incumbent president to run again.
Biden continues to struggle to appeal to younger Democrats, especially on the economy. Only 52% of Democrats under age 45 say they approve of his handling of the economy, compared with 77% of those older.
The president has used the term "Bidenomics" to try to encompass his ideas to lower costs for people on Medicare, shift toward electric vehicles and renewable energy, and build factories for advanced computer chips and batteries. Yet some are still struggling to understand what the term means.
Asked about the definition of Bidenomics, Cory O'Brien, 39, said: "You know what, dude, I have no idea. Biden is a free market capitalist like most moderate Democrats are."
The age gap extends to Biden's reelection campaign: Just 34% of Democrats under 45 want him to run again, compared with 54% of those older than that. Still, about three-quarters of younger Democrats say they'll most likely support him if he's the nominee, though only 28% say they definitely will.
O'Brien, who works in education and lives in Massachusetts, said he expects the 2024 election to be "miserable" for voters because of the likely Biden and Trump rematch.
"I think it's going to be a miserable election cycle," he said. "We're going to see a lot of the same stuff that we saw in 2020."
Biden also faces renewed pressure related to investigations over his son Hunter's business dealings. The poll finds that a majority of Americans – 58% – have hardly any confidence in Biden to reduce corruption in government, though that's unchanged since January. Another 30% have some confidence and 10% have hardly any.
The poll shows that 23% of Americans say they have a great deal of confidence in Biden's ability to effectively manage the White House, 31% have some confidence and 45% have hardly any. Despite the fact that Biden has achieved several of his major policy goals, just 16% say they have high confidence in his ability to do that, while 38% say they have some confidence and 44% hardly any.
Few Americans say they think the national economy is doing well: 34% describe it as very or somewhat good. No more than about a third of Americans have called the economy good since 2021.
___
The poll of 1,165 adults was conducted August 10-14, 2023, using a sample drawn from NORC's probability-based AmeriSpeak Panel, which is designed to be representative of the U.S. population. The margin of sampling error for all respondents is plus or minus 3.8 percentage points.
Copyright © 2023 The Washington Times, LLC.