Biden bets on border money to entice Republicans on $105 billion spending bill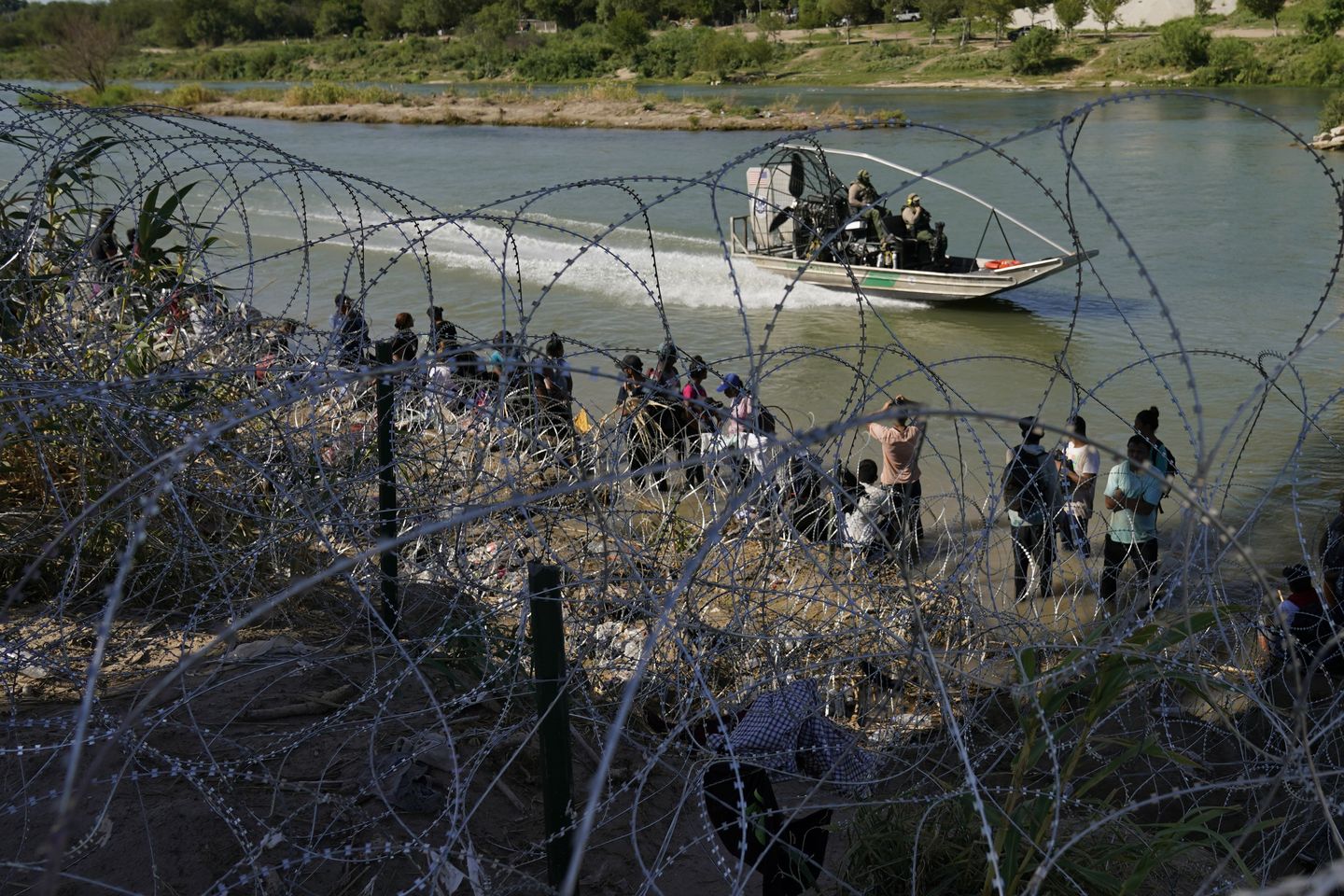 He still won't call the border a crisis, but President Biden now says Congress needs to give him nearly $14 billion to help secure it.
Mr. Biden requested that money as part of his $105 billion aid package for Ukraine and Israel. He figured it might win over some Republicans who are reluctant about deeper entanglements in those foreign wars but believe the border deserves attention.
Experts said the gamble is unlikely to work because Mr. Biden's request for more personnel would mean welcoming illegal immigrants faster and would do nothing to change the policies that are inviting them in the first place.
---
---
"These are not legitimate Border Security funding. These are nothing more than an accelerated processing slush fund," said Mark Morgan, who served as chief of the Border Patrol in the Obama administration and then ran Customs and Border Protection in the Trump administration.
Sen. Tom Cotton, Arkansas Republican, declared Mr. Biden's package "dead on arrival."
Mr. Biden's request, sent to Congress on Friday, includes a staggering $61.4 billion for Ukraine, much of which would go to replenish U.S. stockpiles of weapons already sent to aid the Eastern European nation in its war against Russia; $14.3 billion in weapons and assistance to Israel and to bolster the U.S. presence there as the Jewish nation battles Hamas; and $9 billion in humanitarian aid for various hot spots.
---
SEE ALSO: Biden shatters records for worst border with 3.2 million illegal immigrants, 169 terrorism suspects
---
In an address to the nation last week, the president said the money is needed to preserve America's leadership role as it comes to the aid of two democratic allies, Israel and Ukraine, and tries to head off challenges to U.S. power from Russia, China, Iran and North Korea.
He said spending the money would help the American economy by pumping tens of billions of dollars into munitions manufacturing.
The $105 billion request was delivered to Congress just hours before the Treasury Department announced that the government ended fiscal 2023, on Sept. 30, with a $1.7 trillion deficit. Mr. Biden has not proposed spending cuts or tax increases to offset his request.
Although the money for Israel is wildly popular on Capitol Hill, Republicans are deeply torn over the assistance for Ukraine. Some Republicans have insisted the money for one not be tied to the other. Some also have insisted border security must be the top priority.
Mr. Biden figured to throw all three of those together, daring Republicans to reject money for Israel and the border.
Shalanda Young, director of the White House Office of Management and Budget, insisted that the offer was made in good faith and that Republicans on Capitol Hill have failed to help Mr. Biden secure the border.
"We will not be lectured by those who refuse to act," Ms. Young said. "Congress needs to take action to provide sufficient resources for the border."
Homeland Security Secretary Alejandro Mayorkas said the money is "critically needed."
He said the funding would help his department better detect fentanyl smuggling and "enforce our immigration laws in an orderly and effective way."
"I strongly urge Congress to give the men and women of DHS the resources and support they need to achieve our safety and security mission," Mr. Mayorkas said.
Yet neither Mr. Mayorkas nor the White House has called the unprecedented chaos at the southern border a crisis.
Ms. Young's office didn't respond to an inquiry for this report.
On Saturday, in an unusual weekend news release, the Department of Homeland Security revealed final border numbers for fiscal 2023, the worst on record.
Customs and Border Protection recorded the highest-ever number of encounters, with unauthorized immigrants at 3.2 million nationwide, obliterating last year's record of 2.8 million. In 2020, the last full year under President Trump, the figure was less than 650,000.
The Border Patrol also set a record for the most terrorism suspects detected, and the CBP set a record for the amount of fentanyl seized. Experts say the more that is caught, the more that is getting through.
Mr. Biden's $13.6 billion immigration funding request includes money for 1,600 more asylum officers, 375 more immigration judges and another 1,470 immigration court support staff, and money for communities to help them receive the newcomers.
The request expands Homeland Security's capacity to detain illegal immigrants and adds 1,300 Border Patrol agents to the 20,205-strong force that Mr. Biden previously envisioned.
Analysts said the focus seems less on stopping the flow of people and more on trying to deliver a better welcome to arrivals.
One exception is the increase in money for detention beds. The Biden administration has repeatedly tried to slash Homeland Security's detention capacity, so the request is a stark reversal for Mr. Mayorkas.
Still, Mr. Mayorkas' rules on who can be detained, including a general bar on holding families, would limit the effectiveness of the new beds.
The new Border Patrol agents will also be a stretch, with the agency struggling to keep up with attrition in its ranks, much less expand.
As of last year, Border Patrol had 19,357 agents, or about 2,000 shy of the levels of a decade ago.
In one striking move, the administration is asking Congress to pay for other countries to expand their deportation capabilities.
Security experts said little in the president's request will change the situation on the ground, where Mr. Biden's lax approach to enforcement and his canceling of strict Trump-era policies invited a record wave of migrants.