Australian premier will protest blogger's detention conditions while meeting the Chinese president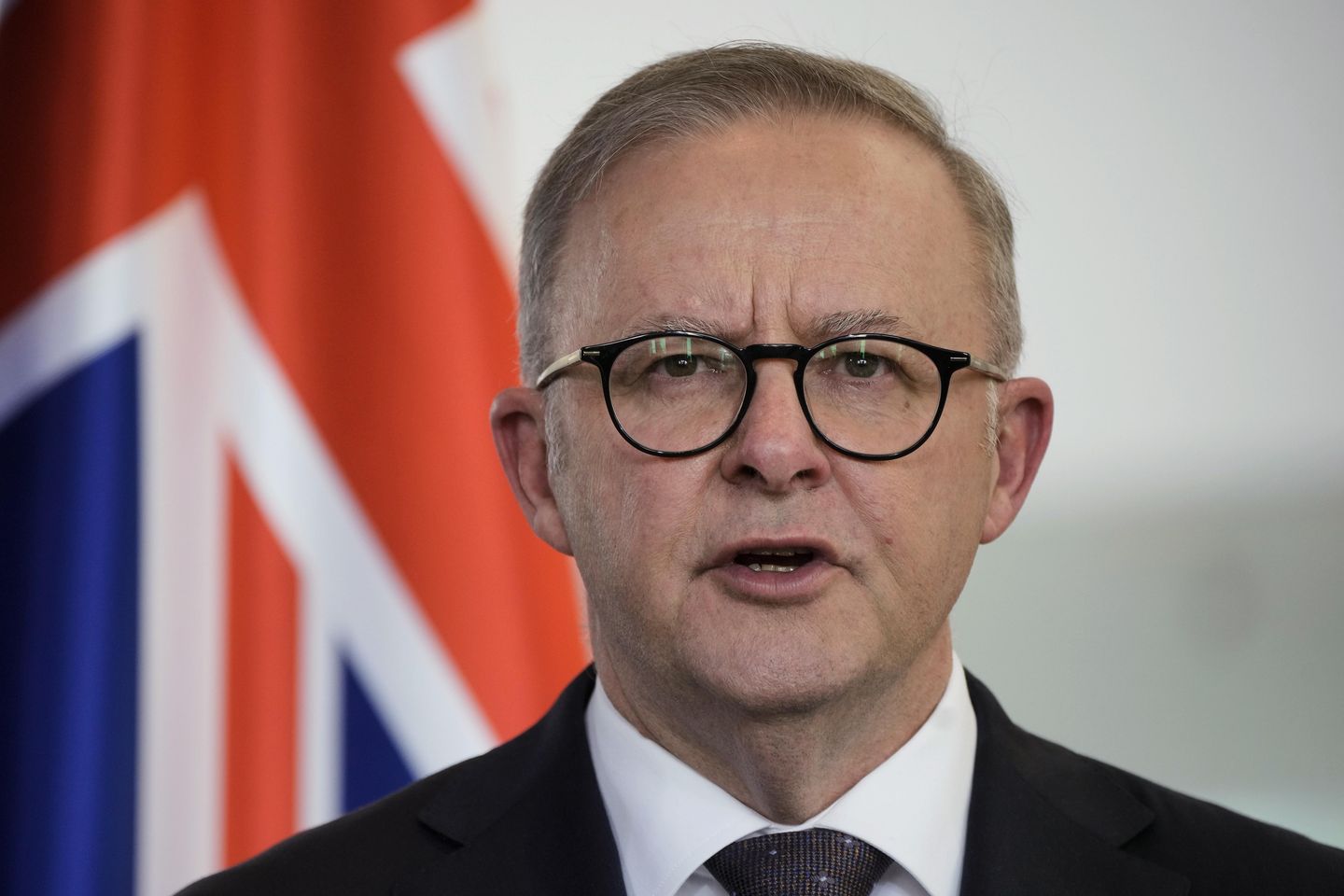 CANBERRA, Australia — Prime Minister Anthony Albanese said Saturday he would protest a lack of transparency in China's treatment of a detained Australian democracy blogger when meeting with President Xi Jinping in Beijing during a trade-focused state visit.
The detention of Yang Hengjun without conviction for almost five years will be one of the topics raised with Xi when they meet in the Great Hall of the People on Monday.
Yang is being held in a Beijing detention center awaiting the verdict of a 2021 closed-door trial on espionage charges. The 58-year-old's family fears he is dying.
---
---
"I'll be saying that Dr. Yang's case needs to be resolved and I'll be speaking about his human rights, the nature of the detention and the failure to have transparent processes," Albanese told reporters in the northern Australian city of Darwin hours before he was to fly to Shanghai.
The Chinese Foreign Ministry this week defended Yang's prosecution, saying his case had been handled in strict accordance with the law.
Chinese state broadcaster CCTV announced that Albanese had arrived in the Chinese financial hub Saturday afternoon along with his delegation, becoming the first Australian prime minister to visit China since 2016. The visit signals an improvement in strained relations between the two nations since Australia's center-left government was elected last year.
"It's very good to be here," he told Australian reporters on the tarmac. "I look forward to the visit."
He was greeted by China's Ambassador to Australia Xiao Qian and Australia's Ambassador to China Graham Fletcher. Albanese was handed a bouquet of flowers by a young girl.
Albanese has been raising the plights of Yang and another detained Australian, journalist Cheng Lei, with Chinese leaders since he first met Xi on the sidelines of a Group of 20 summit in Indonesia a year ago.
Cheng was freed and deported last month after three years in a Beijing detention for breaking a government-imposed embargo by a few minutes. Her release was interpreted as a Chinese concession ahead of Albanese's visit.
Albanese will on Tuesday meet Chinese Premier Li Qiang, whose message of congratulations soon after the prime minister's election victory on May 21 last year raised the prospects of a reset in bilateral relations.
Beijing has previously refused top-level ministerial contacts between the two countries.
From the outset of his prime ministership, Albanese had demanded that China immediately lift what he described as "unjustified" official and unofficial trade barriers costing Australian exporters 20 billion Australian dollars ($13 billion) a year.
Those barriers have since been substantially reduced and now cost around AU$2 billion ($1.3 billion).
Albanese on Saturday credited his government's different approach toward China for what he describes as "stabilizing" the relationship, after nine years of conservative rule in Australia.
"My approach towards this relationship has been patient, deliberate and measured, making sure that both of our interests are put forward because that is the way that good diplomacy works," Albanese said.
"The fact that it is the first visit in seven years to our major trading partner is a very positive step, and I look forward to constructive discussions and dialogue with the president and the premier during my visit to Shanghai and Beijing," he added.
China is concerned by the level of restrictions placed on Chinese investment in Australia due to growing security concerns.
Around 400 Australian executives who do business with China are expected to attend a lunch with Albanese in Shanghai on Sunday. Many urge Australia to ease restrictions on Chinese investment.
"Chinese investment shouldn't be a dirty word," David Olsson, president of the Australia China Business Council, told The Australian Financial Review newspaper.
Albanese will visit Shanghai to attend the opening of the China International Import Expo trade fair where more than 200 Australian companies will be represented.
During the three-day visit, Albanese will focus on reinvigorating the China-Australia free trade agreement, resolving the remaining Chinese trade bans and finding agreement on how to settle future trade disputes, his office said.
Trade Minister Don Farrell, Foreign Minister Penny Wong and an Australian business delegation are traveling with him.
China is Australia's largest export market, particularly for iron ore, natural gas and critical minerals such as lithium.
Albanese has signaled that Australia won't back China's bid to join the free trade agreement known as the 12-nation Comprehensive and Progressive Agreement for Trans-Pacific Partnership.
Copyright © 2023 The Washington Times, LLC.