消息
As cyclists ride across Iowa, they are seeing craft breweries driving small-town tourism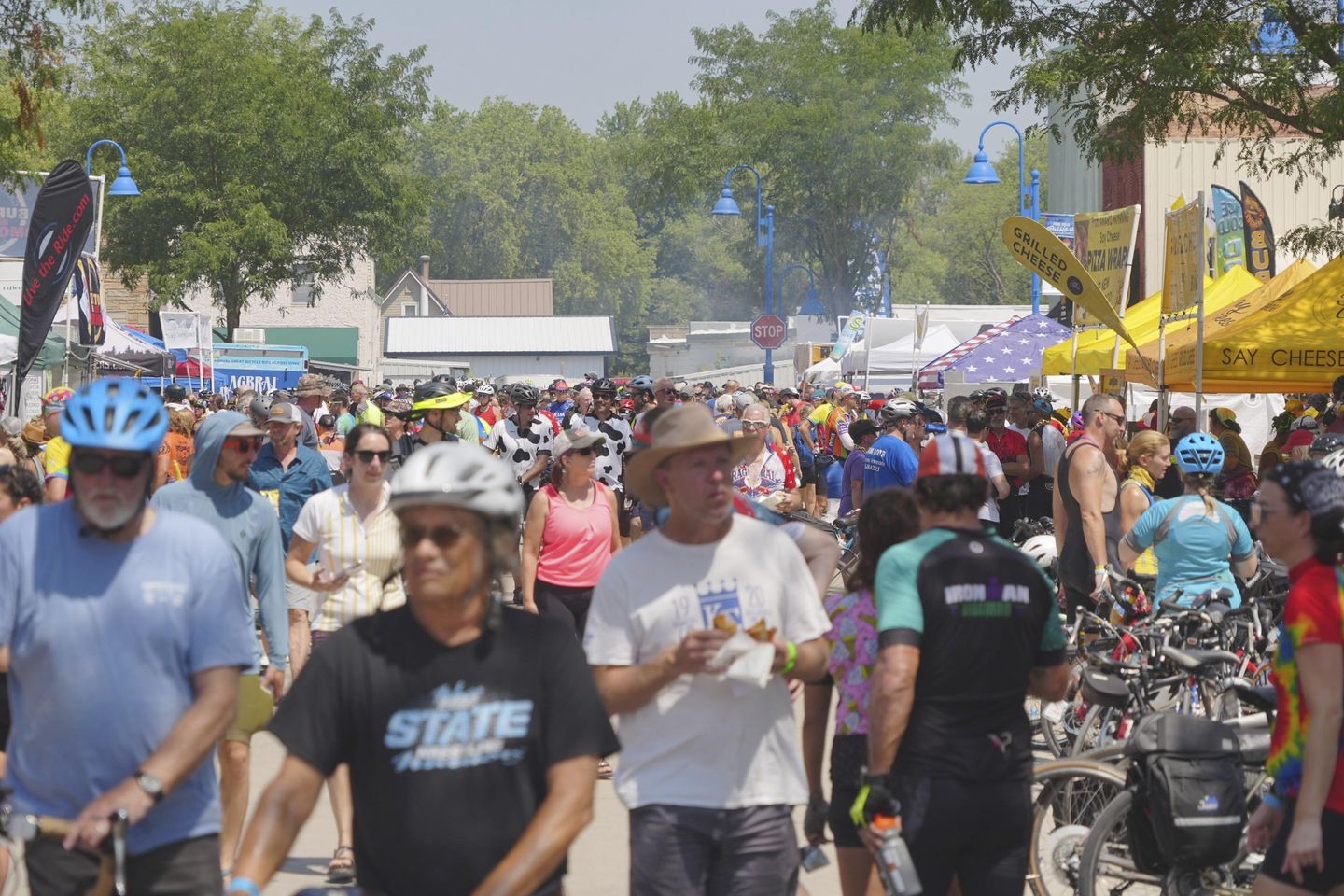 RIPPEY, Iowa — On a long stretch of road just outside the small Iowa town of Rippey, where thousands of cyclists were passing through during a 100-plus mile day on the world's longest and oldest recreational ride, five men and two women rode single-file down the left side, each wearing a jersey worth remembering.
If you're a beer connoisseur.
There was one from Toppling Goliath with images from its flagship Pseudo Sue pale ale. Another from Exile Brewing Company, based in the state capital of Des Moines. And another from Big Grove Brewery.
---
---
Hundreds of other breweries also can be seen on the backs of the estimated 50,000 riders taking part in RAGBRAI, the annual bike ride across Iowa. And together, the small- and medium-sized breweries are a testament to not just how rapidly the craft beer industry has expanded but to its fast-growing importance in rural America.
"The state is littered with great breweries. Fantastic breweries," says Clark Lewey, who along with his wife, Barbara, founded Toppling Goliath in the northeast Iowa town of Decorah in 2009, then watched it become a darling of the craft beer market.
On the BeerAdvocate website, a resource and ranking spot for millions of consumers each month, Toppling Goliath's Kentucky Brunch Brand Stout is rated No. 1 in the world. Its counterpart imperial stout, Vanilla Bean Assassin, is ranked No. 2, while another offering called Mornin' Delight is ranked in the top 10.
---
PHOTOS: As cyclists ride across Iowa, they are seeing craft breweries driving small-town tourism
---
Heady stuff for a still-young brewery in a town of roughly 7,500 nestled well away from the nearest urban area.
"I think what works well," Lewey said, "is when people visit a brewery for the beer but in a town like Decorah, kind of off the beaten path, they come to the town and they fall in love with the town. It's full of fun, open people, a thriving downtown, several breweries and ciderworks and coffee shops. Diverse restaurants. And it's that way in a lot of the same towns I go to."
Another popular spot, Pulpit Rock Brewing, is also based in Decorah. PIVO Brewery has its taphouse about 10 minutes down the state highway in Calmar, a town of just over 1,100 people, where owner and local artist Sara Neuzil also shows her pieces.
The same story is unfolding in small towns across the state: Most have at least one brewery that has become a destination, driving tourism to places that might otherwise receive few visitors each year.
"The industry is maturing and with that is coming growth, and with that excitement from Iowans, and with that some national recognition," said Noreen Otto, the executive director of the Iowa Brewers Guild, which supports breweries across the state.
"It's really cool that we're starting to have this whole environment where we have big festivals that are growing, and big events like RAGBRAI where the craft beer industry is playing a part in that," Otto said. "People are interested in local, they're interested in quality and I think our breweries and cideries are really listening to what consumers want, so they're really doing some of-the-moment, interesting beers. They're really trying to meet consumer interest."
That is evident in the Iowa Craft Beer Tent, which pops up at events across the state, and where consumers wait in long but fast-moving lines to have their pick of up to 20 beers and ciders pouring straight from taps on the trailer.
During RAGBRAI, the tent sets up two stops each of the first six day with one on the concluding day, totaling 13 stops in all. Riders over the age of 21 are able to pick up a wristband on the first day of the ride, and if they get it scanned at 10 of the stops, they get a T-shirt that features that year's bike route and proudly states, "#EarnedIt."
The tents have been popular this week not only because beer and sports – including recreational events such as RAGBRAI – go hand in hand, but because temperatures have steadily climbed toward 100 degrees this week.
Overall, U.S. beer sales decreased by 3% last year, according to the Brewers Association, but craft brewery sales remained stable, and that drove up the share of independent brewers to 13.2% by volume. Retail dollar sales of craft beer increased by 5% to $28.4 billion, accounting for nearly a quarter of the $115 billion beer market.
States such as Colorado and Oregon have long been craft beer epicenters, but Iowa has become formidable, with 120 breweries across the state. According to the Brewers Association, they had an economic impact of about $963 million in 2022.
"It's a couple of things," Lewey said. "First and foremost, it's the liquid. It's a transitional change from your day-in and day-out beer, and it's certainly nice to go to a town where the smaller the brewery, the less chance of finding that beer outside of town, and that can be very intriguing. You find a beer you fall in love with and there is no place else to get it.
"Then it's the staff and management of the brewpubs that resonate so well," Lewey said. "It's the one industry where the people providing the products and the people that want the products think a lot alike. We're often outdoors people – we like to hike, we like to ride bikes, we like beers. It's a common ground, and I think that's a big part of it."
Copyright © 2023 The Washington Times, LLC.